Mom morning routine
Are you looking for a mommy morning routine that works?
Then you have come to the right place moms. 
I am not going to lie to you, I tend to do a lot of my work after my 3-year-old baby girl goes to bed. 
She is now in bed by 8:30 pm and I have until about midnight to get all my blogging work done. 
But I decided to switch things up a little a couple of months ago as I know became responsible for dropping her off at Daycare. 
This meant earlier mornings and no more late nights. 
I also enjoy my sleep. 
No matter how much you try to stick to a schedule, as a mom, you know how unpredictable things can be.
One moment you are staying up all night because your kid has a cold, the next you are sleeping in because you didn't get enough sleep.
But if you can find a mom routine that works, stick to it if you can.  
Today I really want to focus on:
How to come up with the best morning routine for moms

The best working mom daily schedule

How to come up with a morning routine for working mom

And how to ease into a mom morning routine effortlessly
Each new day brings new opportunities and it's a chance to start fresh and do better.
How you start your day and morning, has a big impact on the rest of your day.
Some people say that if they do not get up, do the bed and dress up, then this can throw off their entire morning. 
So setting the tone for your day is important for most people.
I'm sure you've experienced this yourself.
Let's use the snooze button as an example which as a mom, I have used countless times.
So let's say you set an early morning alarm to make sure you have time for exercise, meditation, or simply some much-needed "me mom time".
Your intentions are for you to get up and do whatever you are setting out to do when you set that alarm in the first place.
I get that.
So most mornings you do a good job getting up when that alarm goes off and you go for that walk, you get that meditation exercise done and you may be even reading a book or listening to a podcast. 
Yay. 
Achieving this feels great, you feel pumped and you know you are going to have a great day. 
Then you have those days when you just can't make yourself get up.
You hit the snooze button multiple times, or turn the alarm off altogether and go back to sleep.
I have been there. 
So how can you create the ultimate mommy morning routine without hitting that snooze button?
Before we get started on a mommy morning routine that works, we did want you to follow us on our sister's Facebook for more awesome ideas on saving or making more money. You can also follow us on our sister Instagram account as we share one for more tips. 
We also wanted to take the opportunity to let you know that we use Affiliate links on some of our blog posts. This means that we could make a commission if you click on an affiliate link and purchase something.
Why Do You Need a Mom Morning Routine?
Here is my question for you this morning.
What's most important to you?
What is the one thing you really want to do on a daily basis that would make a big difference, but you just can't seem to find the time for?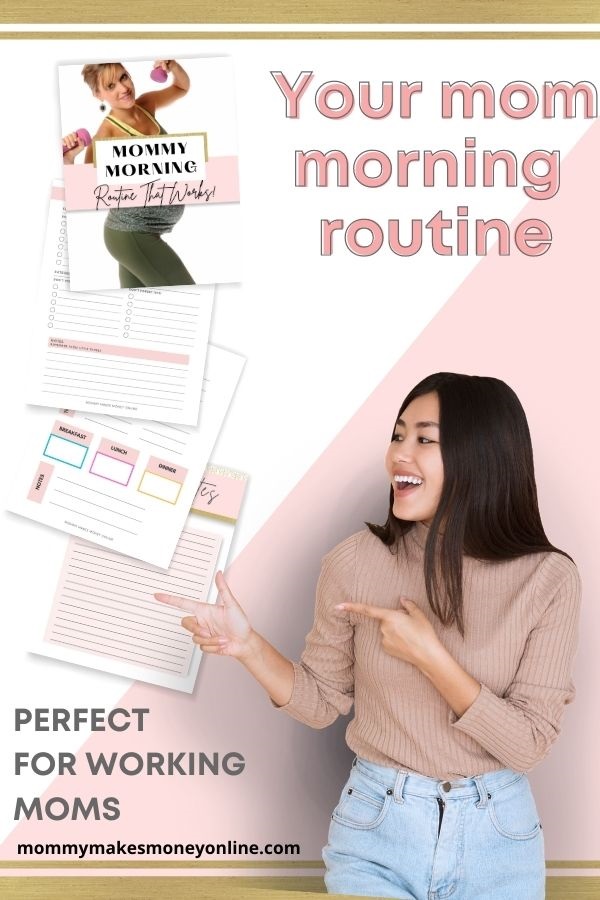 To answer that question, personally, I needed to create a morning routine as I was now taking my daughter to daycare every morning.
As my role got reversed with my husband, I knew right away that I needed to create a new mommy morning routine for the sake of my sanity. 
And I also manage multiple blogs that I am passionate about. 
This meant finding the time out of my crazy lifestyle to actually work on these blogs. 
Getting up much earlier than everyone in the house has many benefits for moms. 
For example:
You will get more time for yourself (ah peace)

You can get work done if you are a work from home mom

You can exercise in peace – I am getting into this more and more

You can meditate or manifest

You can get a lot done (you will be inspired to get it done)
Even though I love nights, I found that getting up in the morning was so much more refreshing. 
I could have a cup of coffee, do a quick workout, shower, and either sit quietly enjoying some peace or get work done on my many blogs. 
I found that I became more productive and I wasn't as drained as I was if I did the work at night. 
I mean, looking after a toddler all day long, the house, cooking, and cleaning can easily take a toll on you. 
And even though I enjoyed working at night, I can now relax with my husband for an hour or two in the evening and be up bright and early in the morning.
So go ahead and find out exactly what is important to you and how you can find more time to do just that. 
Even though I will be sharing a few morning routine ideas for moms, you want one that works for you. 
Finding out what is most important to you, will make it easier to create a good routine. 
It could be an area of your life from exercise and healthy eating to self-improvement or getting ahead in business or at your job.
It could be that you want to work more on your relationship with your kids, your marriage or simply finding time for creative pursuits, or getting in the habit of reading every morning.
Once you've figured out what you want to work on, what you want to improve, and what's important to you, we can then think about how you can make it part of your morning routine
What exactly does my mommy morning routine look like?
Before we go any further? I took the time to create this epic mom morning planner that you can grab right here.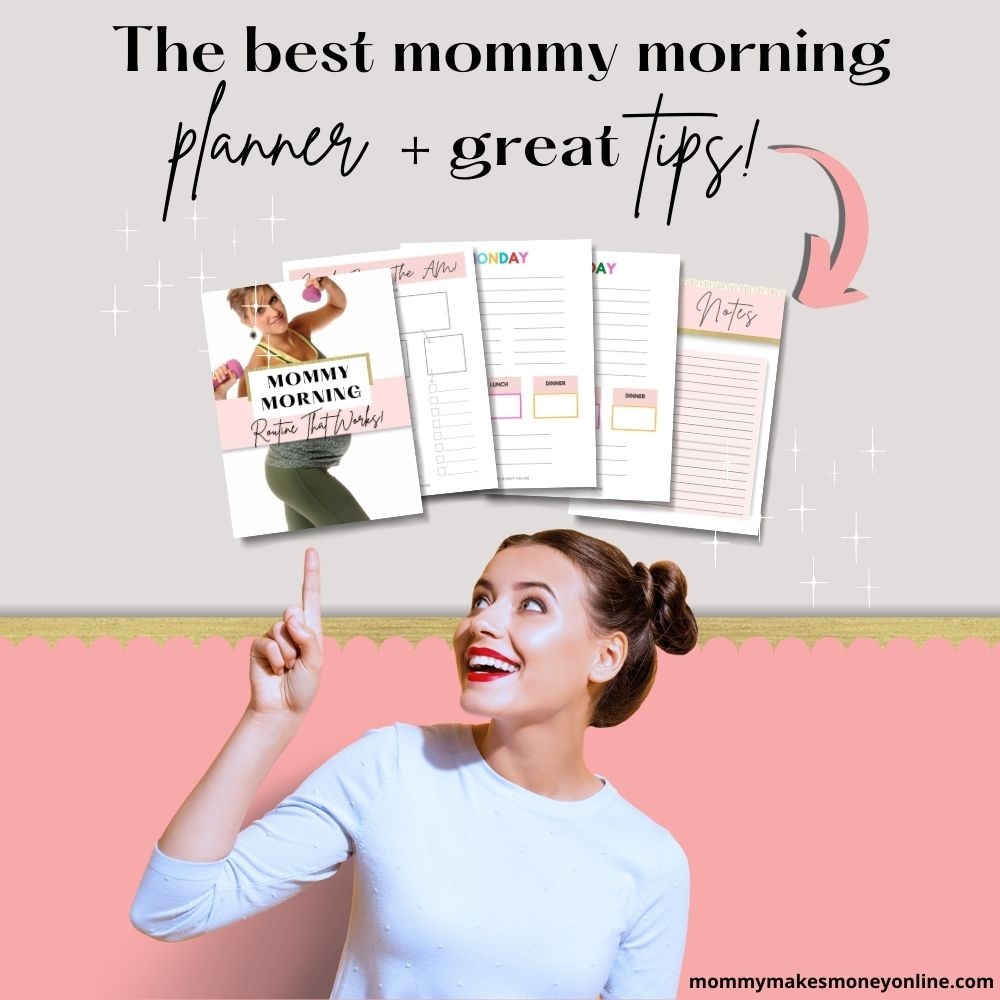 Read this:
Working mom morning routine
As you know, I work full-time on my many blogs. 
I currently have 5 blogs that I manage with part-time VAs. 
I am also a mom to a very busy 3-year-old girl that seems to need more and more of my attention every day. 
My family is extremely close which means we spend a lot of family time together doing things. 
This forces me to literally come up with a schedule that will allow me to get work done. 
Thank goodness for automation as a lot of my business is automated which tends to free up a lot of time. 
I spent the last 9 months setting up and tweaking my automation that allows my businesses to run almost on autopilot except for when I am writing content for my sites.
That's why I got a few Virtual Assistants.
Because you can't do it all mamas! 
Before you can come up with your own mommy morning routine, you first need to be a morning person. 
And I already told you that I am not a morning person. 
Even in college, I would work late into the night. 
I am what people say "a night owl"- Someone who has a hard time waking up early and is the most energetic at night instead of doing it in the early mornings. 
Yes, that is me. 
My daughter on the other hand is an early riser who always almost wakes with a lot of energy that needs to be burned. 
Eeew. 
Why? I have no idea. 
And when she wakes up, she immediately changes out of her pyjamas, pees, brushes her teach, and goes into her playroom. 
Yeah, she is three and has her own morning routine (mostly on weekends or when she doesn't need to be at daycare). 
How can you become a morning person?
Moms, let me say, it was a lot of hard work and it was all about the mindset. 
This means having a positive mindset and going for it. Mornings are busy and they can be quite chaotic for most households.
If you have a young family and plenty of people to get ready and out the door, you know this first hand, even with my one toddler, I find getting out the door extremely stressful. 
I was literally always having panic attacks before leaving. 
Then you had to ensure you had everything for the baby or toddler and this alone stressed me out even more. 
Earlier I shared with you how the first few hours in the morning can really set the tone for the entire rest of your day.
Ask yourselves these questions moms:
Do you want to feel rushed, frantic, and feeling like you're constantly running every morning and trying to catch up?

Or do you want it to be calm, collected, productive, and with a feeling that you're in control of your morning?
Once you've figured out what you want to work on, what you want to improve, and what's important to you, you will need to think about how you can make it part of your morning routine
I failed the first weeks but I was determined, in fact, I had no choice. 
Here is how to start your day with a healthy mom morning routine:
1. Come up with a to-do list
In order to come up with a healthy mom routine, you need to have a practical list of things you want to achieve every morning. 
We already had you come up with a list of things you really wanted to do on a daily basis to make you feel accomplished. 
But now you need to break these down into manageable tasks. 
For example, if your goal is to exercise more because you want a better, healthier, and stronger version of yourself then make a daily plan on how you are going to get that done. 
Wake up early and drink lemon water

Have a probiotic or vitamin 

Walk for 15 minutes / do a 30-minute cardio

Use a health tracker to document your journey 

Mediate 

Make a healthy breakfast or healthy juice (Smoothie)

Then start your day
And from here you can increase your workout time as well as change up your workout routine. You can read this post where we outline some of the best workouts for moms to try out. 
This list needs to be done before you go to bed.
Then you will know how much time is needed as well as what time you need to set your alarms. 
Don't forget to use our To-Do list included in our epic Mom Morning Planner that you can grab right here.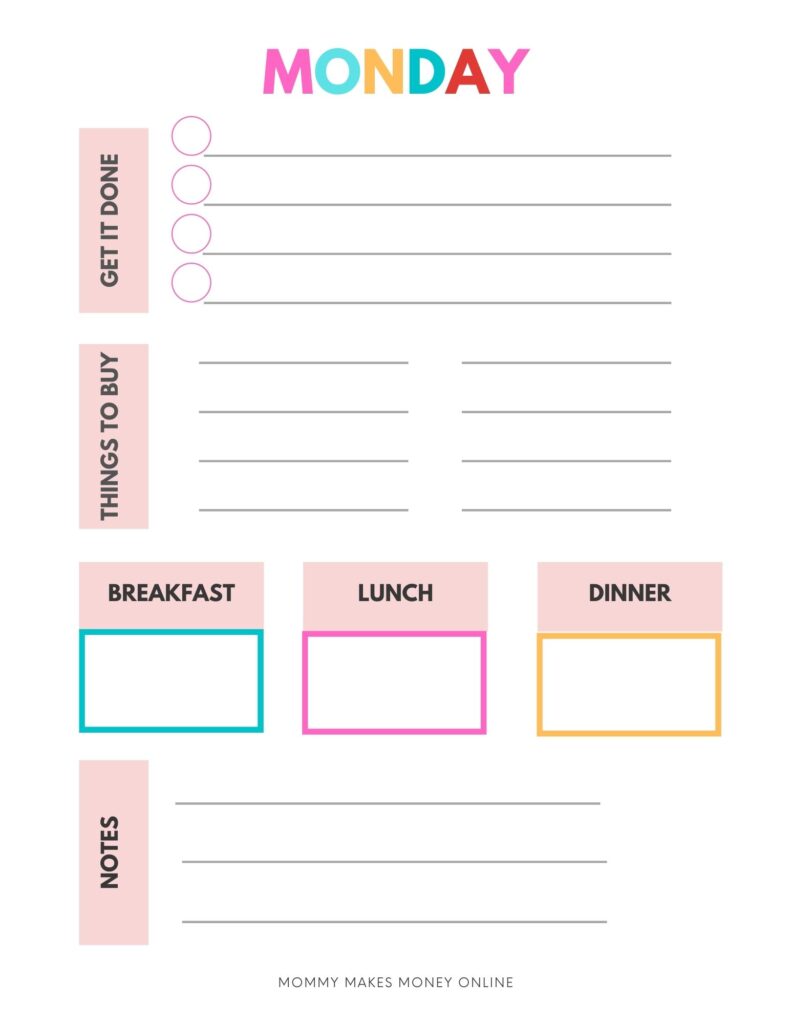 2. Setting up 3 Alarms 
No kidding, I have 3 alarms on my phone as I tend to snooze a lot. 
Please don't judge me (haha). 
I have one alarm that goes off at 5 am, another one at 5:30 am and then 5:45 am. It's the only way that works for me. 
I am telling you set up 3. 
If you can get up and go after the first alarm, you are super mom and should stick to that.
Need more help? Set up a few more alarms, at least 2!
3.  Plan to get up much earlier than normal
It's tempting to hit the snooze button like I normally do in order to catch a few more minutes of sleep.
It's even harder to set an alarm early enough that you have plenty of time for everything you want and need to get done.
I get this.
If you are not a morning person like me, moving up the alarm by 30 minutes to carve out a little extra time can be tough.
Trust me though, after the first few mornings it's not nearly as hard as you think and something you will quickly get used to.
My morning typically starts at 6 am so setting the extra alarms is just for me to get into the routine. 
The problem with snoozing past your actual wake-up time means that you are cutting into your actual "mom morning routine."
Then you will go back to feeling more rushed to get things done. 
Remember, your morning mommy morning routine is supposed to set the tone for the rest of your day.
If you start it chasing time and things, that's likely how you will spend the rest of your day (playing catch up).
Getting up early enough on the other hand puts you ahead of the game.
You're in control.
4. Get Your Day Started
Some people will feel fully awake only after taking that morning shower or going for that morning run. 
I have a treadmill in my house as it made sense for me to get one. 
So I simply go down to the basement and get a 45-minutes walk or 30 minutes run daily. 
Do what it takes for you to get up and functioning in the morning. 
Maybe all you need is a morning coffee or a place to sit quietly for a minute and reflect. Self-care for moms is extremely important for your mental health. 
Sometimes saying a few positive affirmations for moms every morning is enough to spark that energy to get the day going. 
5. Let Get You More Energy 
Moms are extremely busy. 
I know when my daughter was a little tiny baby it took me a while every night to get her down. 
Lucky for me, she slept through the night by the time she was 4 months. 
But I was felt drained every night. 
The morning is the perfect time to fuel the body with some much-needed energy. 
First thing first, I need that coffee. 
I am not going to function without that first cup of coffee.
So I grab my favorite coffee mug which you can find here, and I take time to enjoy it for at least 10 minutes before the rest of the family gets up. 
You can shop "all mom coffee things" below: 

Other ways you can feel up in the morning:
Have a healthy breakfast 

Take a multivitamin/supplement (I take this one)

Drink warm water with lemon before you eat or drink anything else
Getting into these morning habits will make a difference when it comes time for you to tackle your dreams. 
Here Is A Break Down Of My Mommy Morning Routine
This is a morning routine that works for me. 
If you are a working mom, this might also work for you. Please keep in mind, that I have one daughter and she is 3.5 years old.
Here is my typical daily routine for working moms to try out:
Wake up at 5:45 a.m. (Alarm is set up for 5:30 am and I typically snooze once or twice because I am human.

5:45 – 5:55 a.m I go to the bathroom, brush my teeth, wash my face and change into a work-out outfit (I work out about 3 times during the week and once on weekend)

5:55 to 6 am I go into the kitchen to pour myself a cup of warm water and lemon, take a multivitamin and grab my workout water for my treadmill. 

6 am – 6: 30 am (I do a walk or a jog) I leave my 45 minutes for the weekend (I typically listen to a blogging podcast or a motivational one). I also alternatively do Yoga With Adriene!

6:35 am I Go into the kitchen and start brewing my coffee to be ready for 7:15 or so. Then I set out items for my daughter's breakfast (usually a small bowl of cereal or a muffin and orange juice)- it's very small as she gets breakfast with her friends at daycare.

6: 45 am I am upstairs and I pick out her outfit, plan out her hair accessories, and set out her toothbrush. 

6:55 am She bathes the night before so I skip this totally (I use to bathe her in the morning as I know she's such a princess and loves the whole bubble bath or playtime- keep that for the evening). Instead, I take a shower right at 7 am!

7: 15 am I am getting dressed, and getting my hair done, I wear very minimal makeup as I work from home, so no routine there.

7:25 Wake my daughter up. She pees, I brush her teeth, moisturize again as she has extremely dry skin, I moisturize her hair and give her a new style. Then we dress her up.

7:45 am we are downstairs, eating, me having coffee and I pack her bag

8:00 am  We are out the door, no stress or rushing. If it's winter and snowing, I get my husband up to shovel and warm up the car

8:15 She's at daycare, we say our goodbyes, hugs, and kisses

8:45 I am back home and ready to work for 9 am (I usually grab a snack before I get to work)
If you go to a physical location, just weigh in travelling time. 
During Covid, my husband is currently working from home but other than that this is my "working mom morning routine". 
Examples of other Morning Routine For moms: 
Youtube is full of mom morning routines you can find and tweak to meet your needs. If you look up what you need I am sure you will find a morning routine that suits your needs.
If my routine doesn't work, you can look up another morning routine for working moms that may align more with your lifestyle. 
If you are currently not working, you can find a stay-at-home mom routine that is much more suitable for you!
You can also find a single mom morning routine or a "mom morning routine" with multiple kids. 
Here is a morning routine for moms that I totally love:
Tools You Need For Setting up A Mom Routine:
An alarm – use your phone

A to-do list of tasks you want to complete

A Daily Log of your Achievement 

Your special coffee mug and water bottle

And don't forget your invisible super mom cape
What is included in our "Mommy Morning Routine" Planner

First of all, it's totally free.
This amazing mom's morning routine includes a to-do list you can use to prioritize your morning and day. 
I also included a crush it in the am, mom goal planner so you can break up your ultimate goals into manageable tasks every morning until it is done. You will also find a daily mom list included. 
And obviously, a week at a glance planner because, why plan so far ahead?
Read next:

A Mommy Morning Routine That Makes For A Productive Day