Best Planners for Working Moms
Looking for the best planners for working moms? We dive deep into choosing the best planner for your busy life!
Work-life balance can be a hard thing for many moms to achieve.
There are so many responsibilities that come with being a mom, it's easy to see why we need to manage our time well.
Most moms that work outside the home have to deal with a laundry list of items, including:
An 8-hour workday

Meal planning and groceries

Household chores

Caring for children and playing Mom Taxi

Making sure bills are paid

Finding time for self-care
With everything that needs to be taken care of, a good planner for working moms is essential!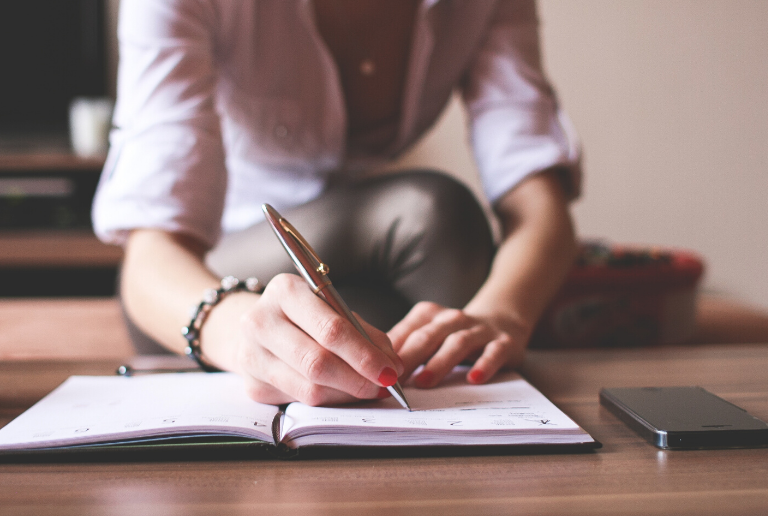 What are the best planners for moms that work to help get things done? 
Since you have so many things on your plate, it can be easy to forget one or put it off to the next day.
The problem is, some things never get done.
You feel drained and like your "to-do" list will NEVER be finished.
Once you start using one of the best planners for working moms, however, you'll see your productivity skyrocket.
You'll have more time for yourself, your family and your hobbies.
You won't feel burned out or guilty for forgetting important tasks. Daily routines created in the planner make it easier to get everything done!
Choosing the Perfect Working Mom Planner for Your Life
As you are browsing all the best planners for working moms in our list below, there are some questions you want to ask yourself.
Not all of these planners will work for every mom, so it's best you choose the right one for your situation.
Here are a few questions to consider…
What is your planner budget?
Planners can get expensive very fast.
You can grab a $5 planner at Walmart or shell out $55+ for a detailed planner online.
You also need to figure in the cost of pens (different colours if you want to further organize your life), stickers, washi tape, and anything else you may want to decorate with.
How much detail of your life do you want to plan?
Some planners come with simple daily or weekly views, depending on how much you need to organize.
Others have additional space for meal planning, important reminders and notes.
You can even let planning become a creative outlet with stickers, doodles and more.
How much space are you going to need to find that elusive work-life balance?
What planner features are MUST HAVES for you?
As you consider the best planners for working moms, think about what you like the most.
Jotting down notes through the week is a necessity for many moms, especially if plans change or last-minute events are tossed in.
Some moms like to use their planner to budget and organize the family finances as well.
There are also moms that see planning as a hobby and want lots of space for drawing and being creative.
You may want to consider the different sizes of planners as well if you plan to carry yours in your purse or are fine leaving it at home every day.
Here is what we are focusing on today: 
Sharing the best planner for busy moms

What we think is the best planner for busy working moms

And tips on where to find the best planners for busy moms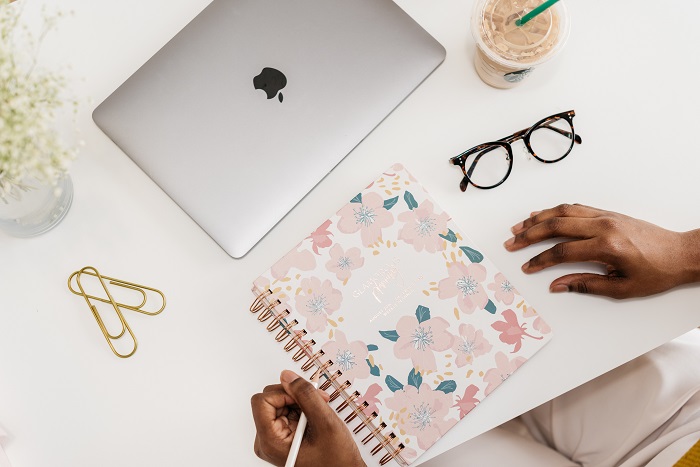 Okay, ready to find the best planner for your busy life?
Before we get to the best working mom planners, we did want you to follow us on our sister Facebook for more awesome ideas on saving or making more money. You can also follow us on our sister Instagram account as we share one for more tips.
We also wanted to take the opportunity to let you know that we use Affiliate links on some of our blog posts. This means that we could make a commission if you click on an affiliate link and purchase something.
So what are the best planners for working moms?
We worked to come up with a list of the best planners for working moms. 
You will find a detailed list of some of the best, including our thoughts on them and price points.
Find the right planner that works well for you is our top priority.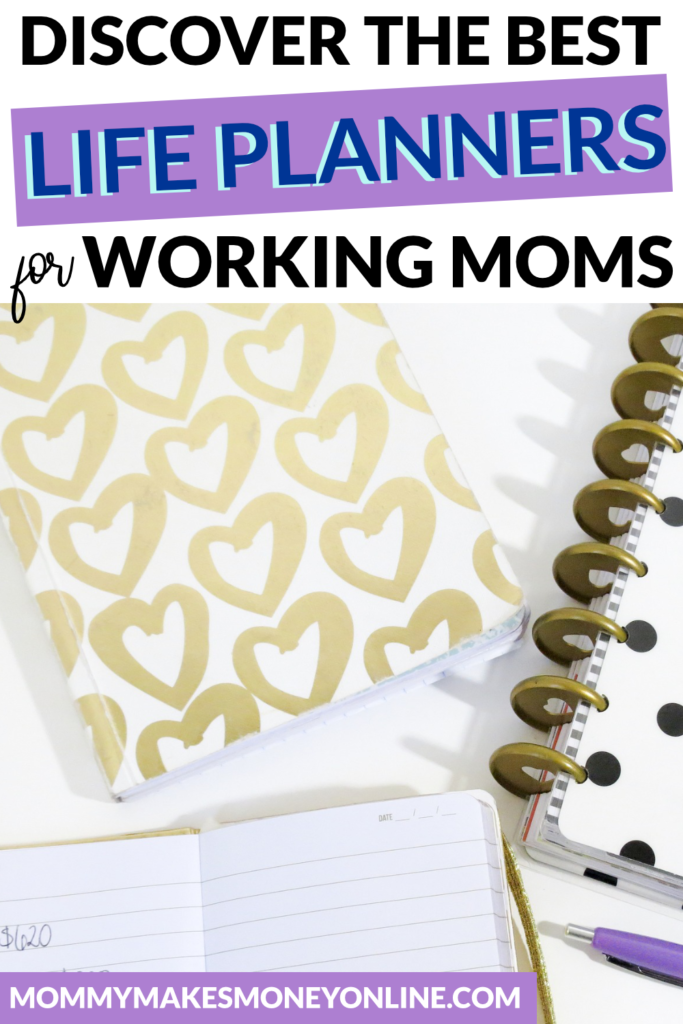 9 Best Planners for Working Moms to Use in 2020
Planners that made our list, at a glance:
Erin Condren Life Planner

Classic Happy Planner

Day Designer Daily Planner

PurpleTrail Mom Planner

momAgenda Day Planner

Clever Fox Planner

The Ultimate Mom Planner

Do it All Mom Planner

Bullet Journal
1. Erin Condren
The Erin Condren Life Planner has become one of the most popular options for women – including stay at home and working moms.
You have so many customization options when ordering the planner, including the view of each week!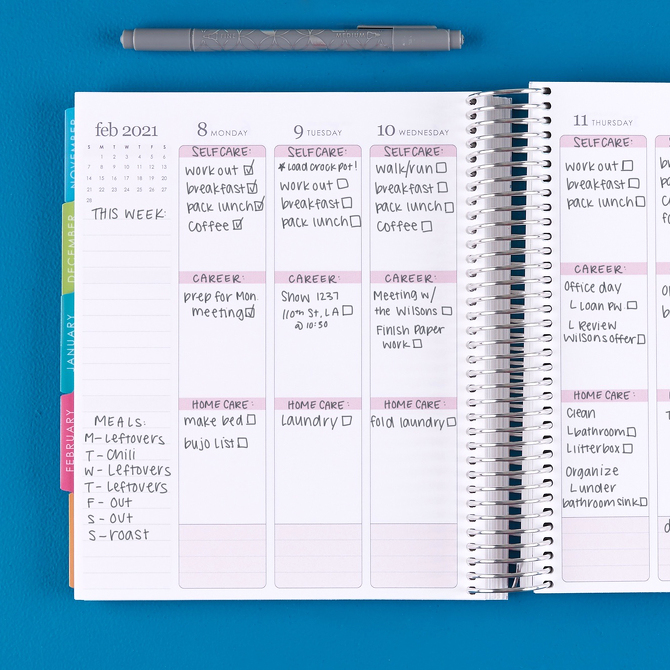 The vertical layout is amazing for working moms, as you can separate the different tasks of each day into three different blocks (maybe label them Work / Home / Family). 
It also comes with a customizable cover and fun stickers.
Erin Condren offers a variety of accessories to truly customize your planner experience with the Life Planner.
Possible cons for the Life Planner: Higher-end price tag (starting at $55); Maybe too big for some as it's not really a purse-friendly planner option. 
I believe this one is the best planner for working moms as I know many moms that use it. 
2. Happy Planner
The Classic Happy Planner is definitely one of the best planners for working moms, and it may be THE BEST for those wanting a creative outlet.
The entire planner can be personalized to your liking…cover, layout, etc!
Extension pages (fitness and budgeting are examples of what's available) truly make the planner your own.
You and a fellow working mom may both have Happy Planners but they won't look alike once you've totally customized them for your needs.
And as you can see, there is plenty of space for stickers, drawing and more.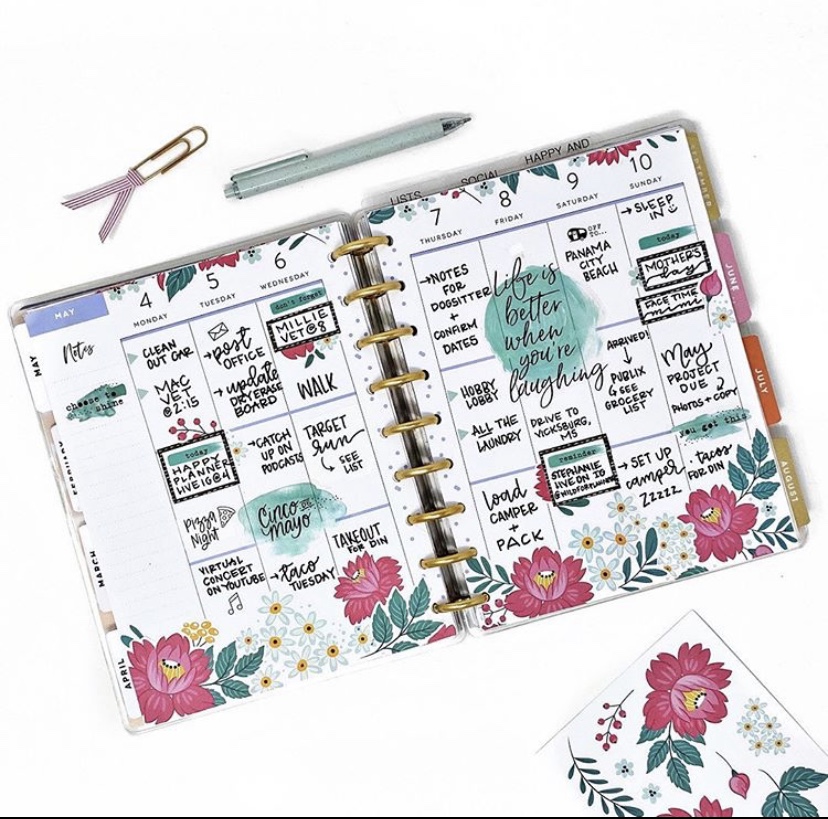 Possible cons for The Happy Planner: Classic size may be too large for a purse; a higher price point ($30+); Costs can be higher with extension pages and other accessories; disc-bound pages can be hard to turn.
3. Day Designer
Day Designer Daily Planner features a bit different layout than other working mom planners.
You have a layout that features each day in a large format.
You can write your top 3 priorities at the top of each day so you make so the most important tasks are done.  
The rest of your day can be noted in an hourly or to-do list style depending on your needs.
Perfect view for working moms who like to take things one day at a time!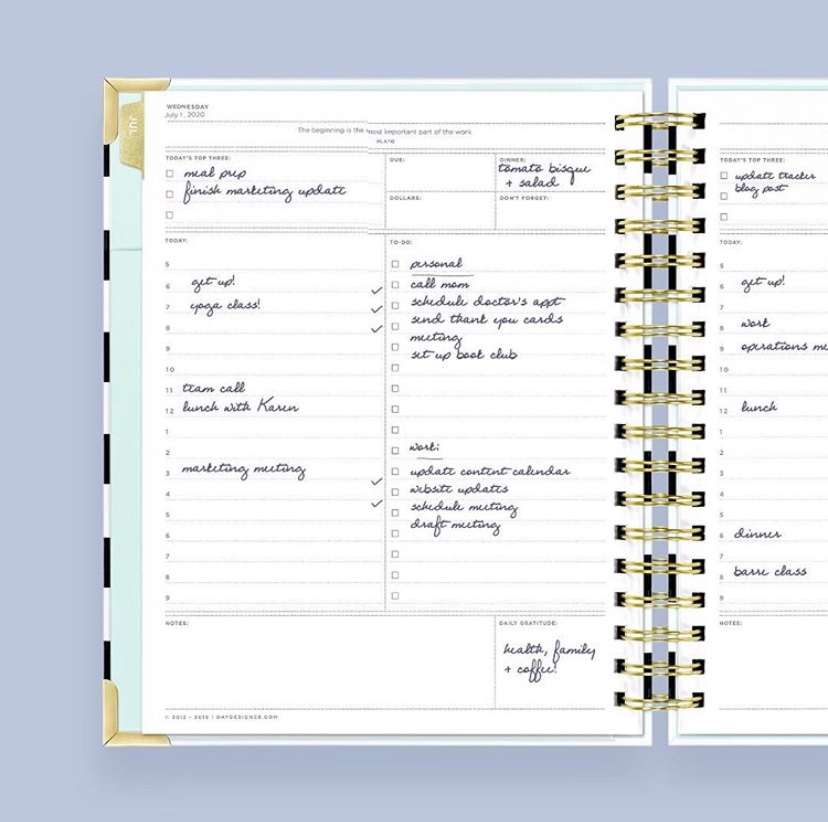 Possible cons of the Day Designer Daily Planner: No weekly layout to see everything at a glance; higher-end price tag ($59); Dated for the academic school year.
4. PurpleTrail Mom Planner
If you are looking for the best planner for working moms, consider this one. The PurpleTrail Mom Planner may offer the ultimate in customization over all others in this list.
When building your own planner on their website, you can choose the size, cover, starting month, planner length (6-18 months), page colour, stickers, and add-on pages.
When you are finished placing your order, you will have a mom planner designed just for your life and needs.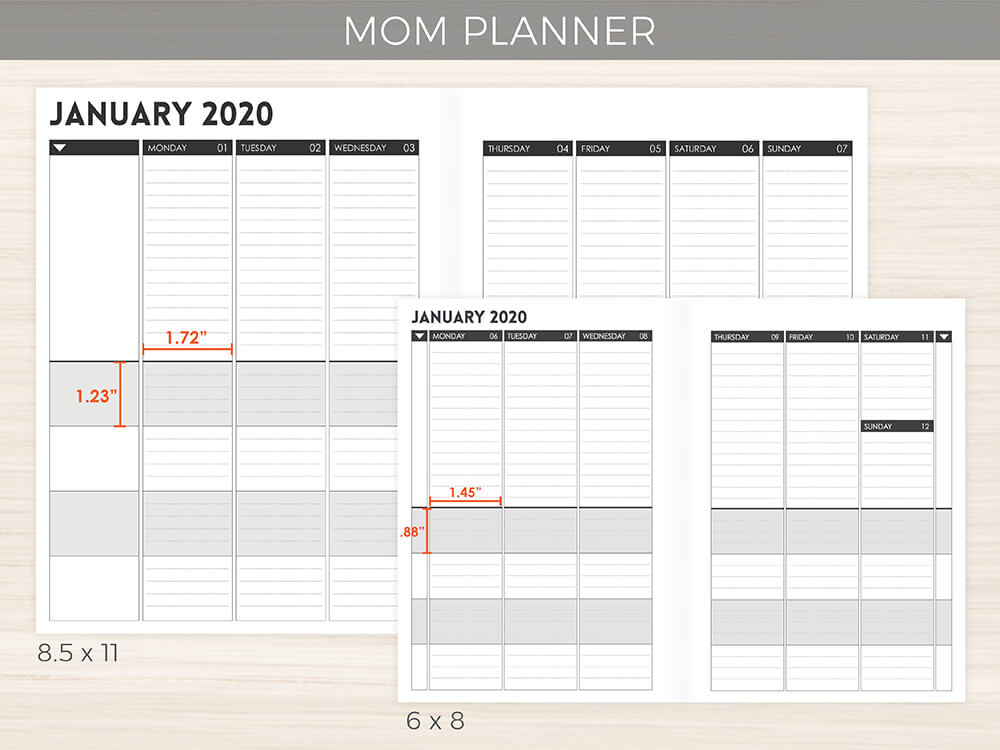 Possible cons for the PurpleTrail Mom Planner: Too many customization options; may not be for simple, minimalist moms; higher-end price point (starts at $41.95).
5. momAgenda
The momAgenda Day Planner is one of the best planners for working moms who want something simple and efficient to organize everything.
There isn't a ton of space for extras, so it's great anyone seeking a minimalistic, "down to business" layout.
At the top of each weekly page, you have space for the most important tasks, and further down you can designate blocks for each family member or time of day (morning/afternoon/evening/night).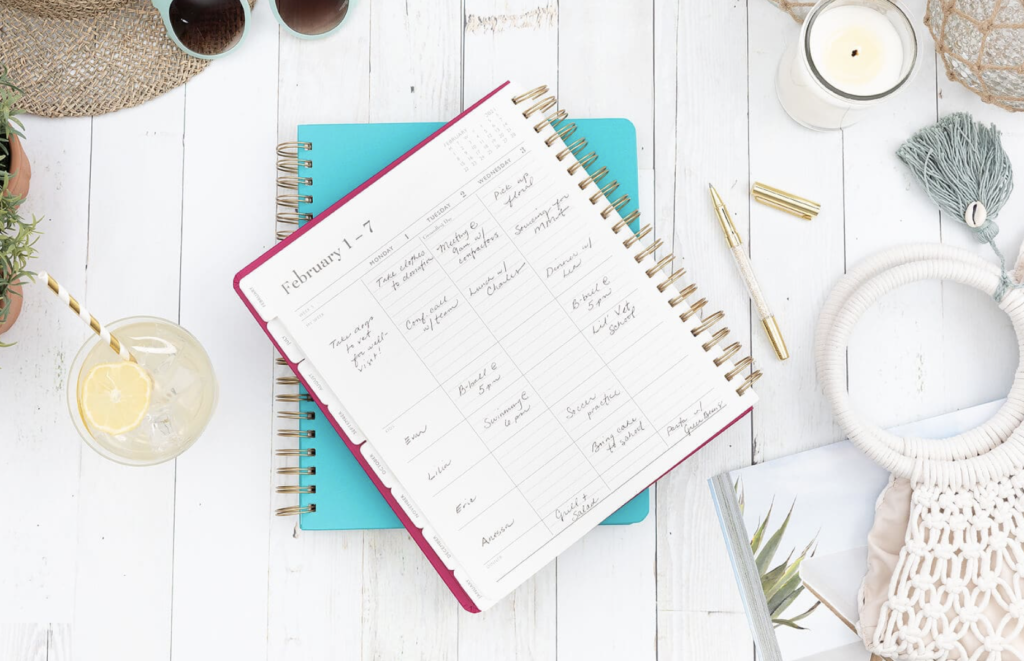 Possible cons for momAgenda Day Planner: Midrange price point (starts at $38); Maybe too simple for creatives.
6. Clever Fox Planner
The Clever Fox Planner is a robust "all in one" planner designed to help moms manage their time and meet all their goals.
It features a monthly and weekly layout that is undated so you can begin using the planner at any time.
The weekly spread features several different sections to track goals, priorities, habits, plans, and more.
There are also sections for a vision board, gratitude, daily rituals, goals, and more.
By the end of the 12-month planner, you'll likely notice a huge change in your productivity, mindset, and happiness.
And, the A5 size means it can fit in most purses.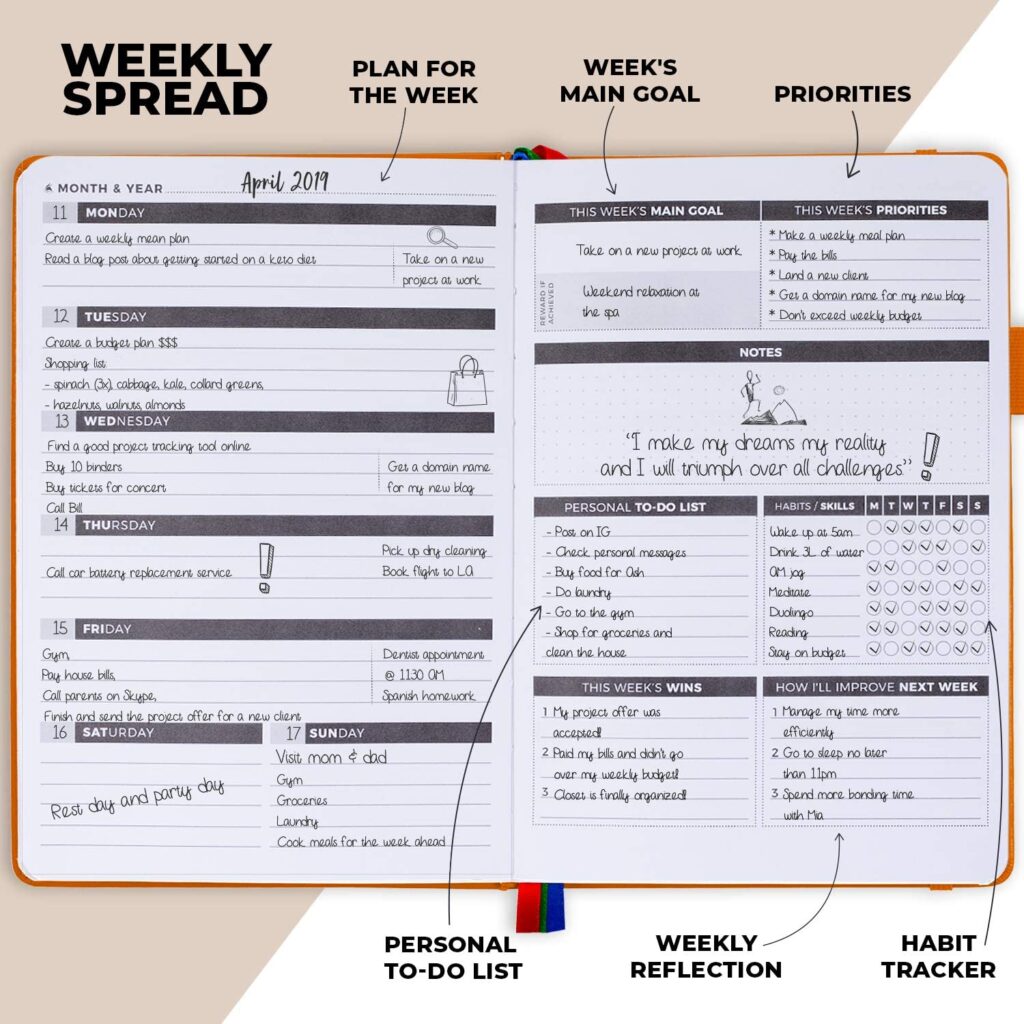 Possible cons of the Clever Fox Planner: May have too many unnecessary pages for some; Midrange price point ($24.99); Not a lot of extra space
7. The Ultimate Mom Planner
This downloadable planner for working moms offers just about anything you may need to organize your life.
For starters, there are three types of layouts: daily to-do, weekly, and monthly…all in the same planner!
There are also several sections you can choose to print and add to your planner to make it your own, including cleaning, budgeting, meal planning, self-care, and goal setting.
At just $20, this can be a great option if you want a planner that truly fits your lifestyle.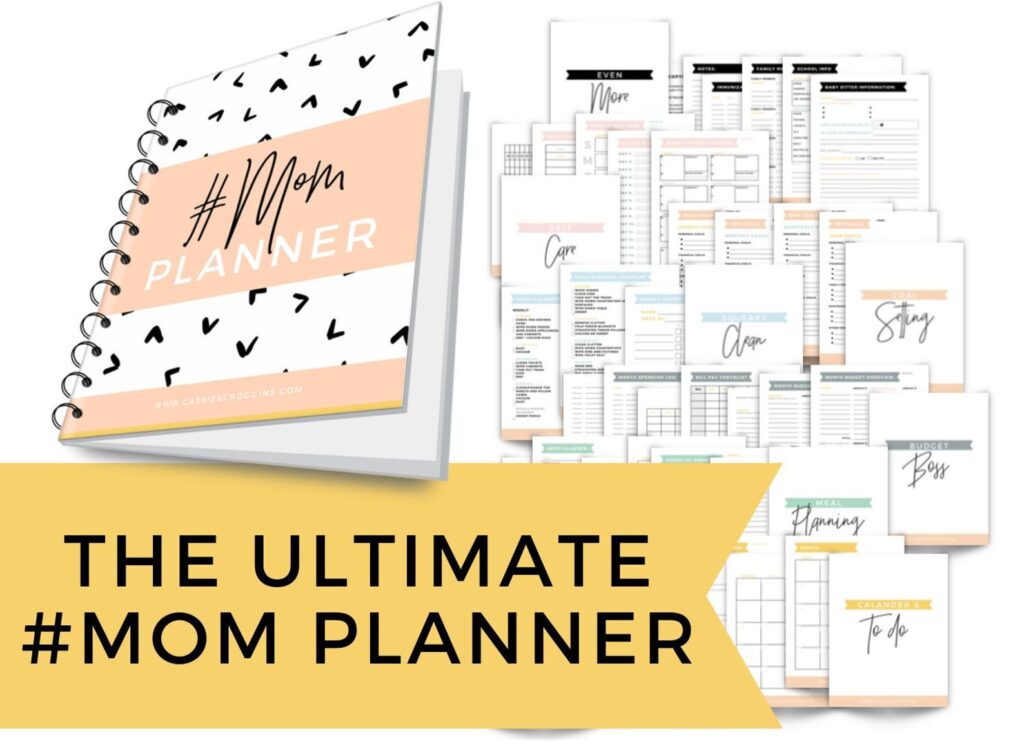 Possible cons of The Ultimate Mom Planner: May have some unnecessary sections for some; have to download, print, and assemble the pages in a binder; too large to carry in a purse.
8. Do It All Mom Planner
The Do It All Mom Planner offers a simple yet very functional way to get things done, which is why it's one of the best planners for working moms.
The weekly layout features can be organized by a family member or time of day.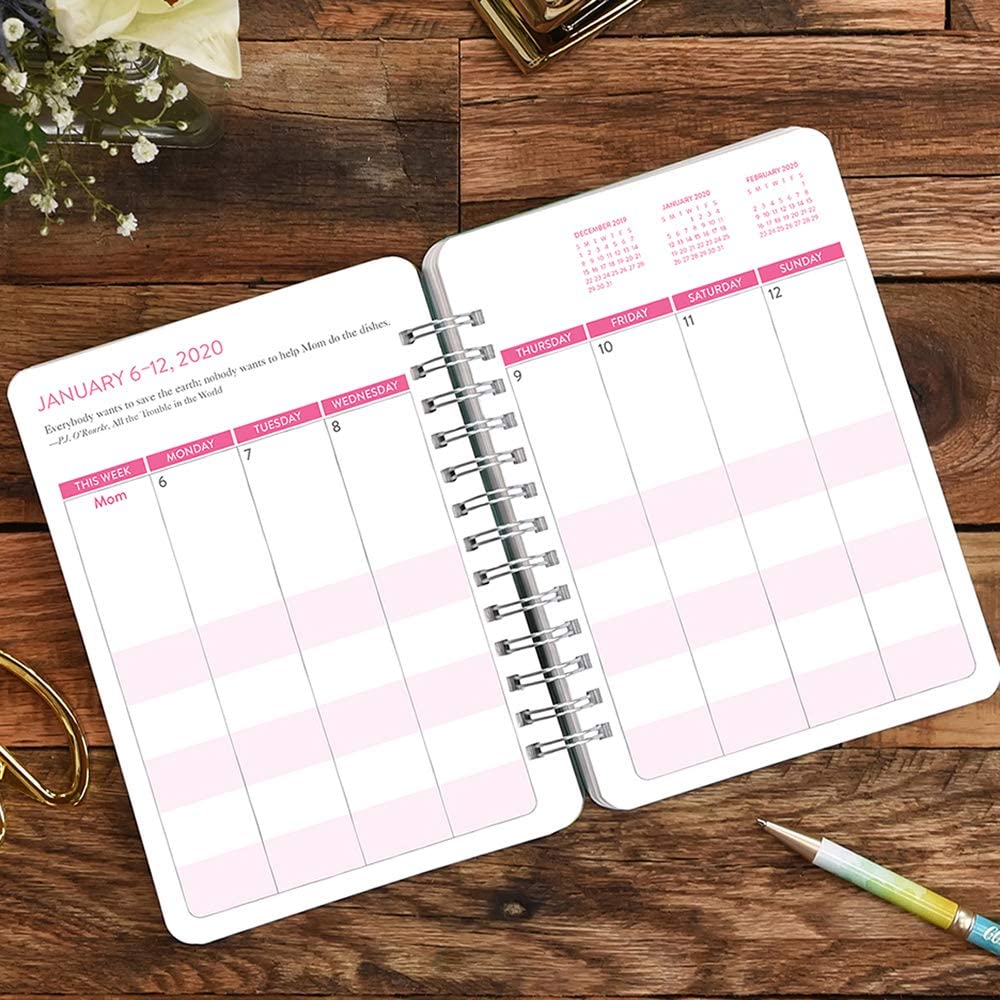 There are lots of cute stickers included to add colour and decoration to your planner and the tear-away shopping lists make meal planning and grocery shopping a breeze.
This planner is small enough to be tucked into your purse for on the go organization and offers an affordable option at just $12.
Possible cons of the Do It All Mom Planner: No customization options; Maybe too basic for some.
9. Bullet Journal
For working moms that want a fully DIY planning experience, a bullet journal may be the route to go.
With a bullet journal, you can go as simple or as involved and creative as you'd like.
You don't have to worry about wasted pages or being confined to no customization options.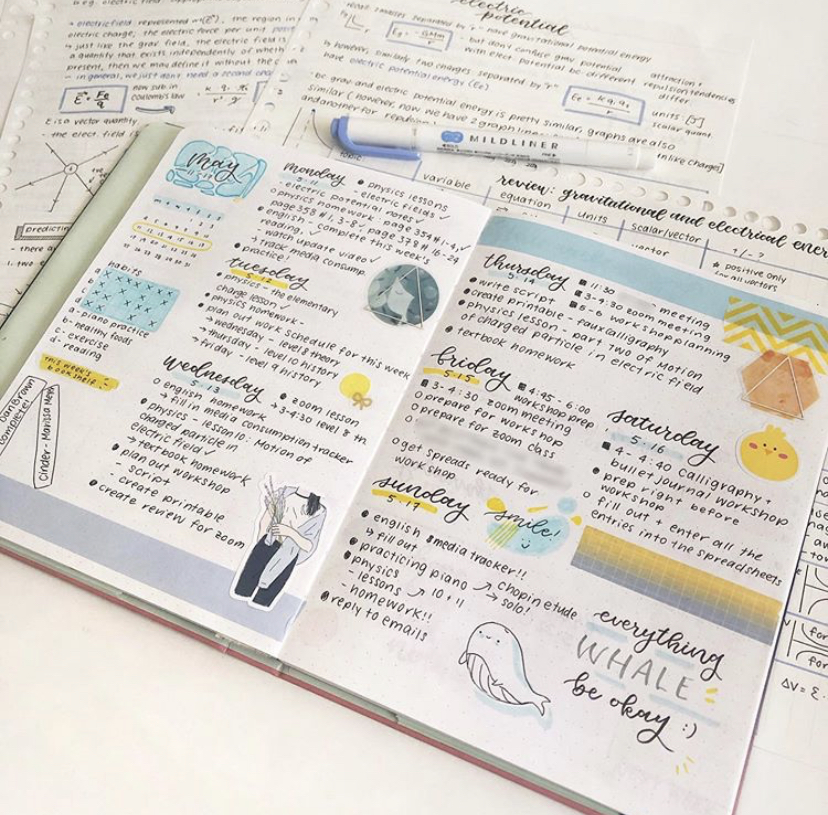 You control the layout and whether you want to plan daily, weekly, or monthly.
You can also add in whatever additional tracking needed, whether it be organizing your housework, managing your family's finances or tracking your fitness and weight loss.
Learn more about bullet journaling for working moms!
Possible cons of a Bullet Journal: Time consuming to set all pages up; a total DIY method that some may not enjoy; not as simple to use as other planners. 
There you have it, a list of awesome planners for working moms. 
Which one of these did you love the best?
Share with us in the comments section. 
Don't forget to grab your Mommy Work-Life Flow Mini Planner below!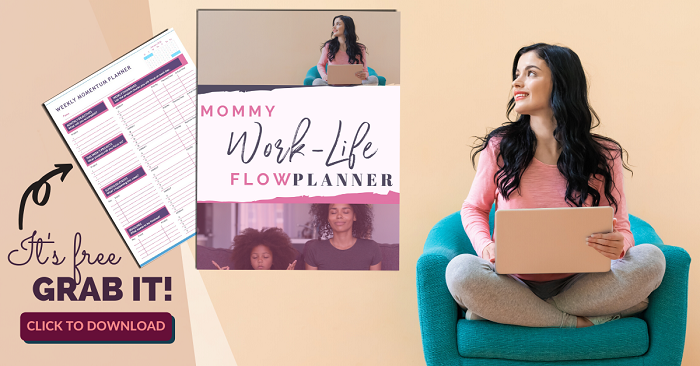 9 Best Planners for Working Moms To Use In 2020