Mom Affirmations
Are you looking for positive affirmations for moms that work?
You are in luck.
As a busy mom to a growing toddler, finding some positivity while living a semi-stressful life can be challenging sometimes. 
But I make it a point to find something positive in everything I do. 
As stress levels continue to grow, the only thing we can do as moms is to eliminate them as much as we can.
And this is when I typically turn to mom affirmations to get through things. 
If you have never tried affirmations, I encourage you to give it a try.
Saying powerful words and affirming them is how I have lived my life for the past 4 years now. It works and I believe in them.
When I go through something difficult which most of us do,  I turn to and try to find positive affirmations for moms to keep me going through the day. 
We are hoping to highlight over 30 positive affirmations for moms that work for me every time. 
These positive affirmations for mothers could possibly help reduce stress and lead to a more productive lifestyle for you as a mom.
So what are some of the best positive affirmations for moms?
Before we get started on positive affirmations for moms, we did want you to follow us on our sister Facebook for more awesome ideas on saving or making more money. You can also follow us on our sister Instagram account as we share one for more tips. 
We also wanted to take the opportunity to let you know that we use Affiliate links on some of our blog posts. This means that we could make a commission if you click on an affiliate link and purchase something. Read our full disclosure and blog policy for more information.
What are affirmations?
Before you get started on doing daily affirmations for moms, you need to truly understand what you are getting into.
So what are affirmations?
Affirmations are the action or process of affirming something or being affirmed.
They are sentences aimed to affect the conscious and the subconscious mind so that in turn, they affect our behaviour, thinking patterns, habits, and environment!
By saying and affirming your words, they will begin to become what you believe. 
You can also find an amazing list of daily positive affirmations for women right here and we urge you to read up on affirmations for black women here! 
And sticking with that theme, we wanted to go ahead and write about positive affirmations for moms because we rock and we want you to rock too.
Today we are looking at sharing the following:
Positive affirmations for mothers

Mom affirmations that work fast

Tips on how to use daily affirmations for moms
Whether you are looking for positive affirmations for new moms, positive affirmations for single moms or general affirmations for mothers, we have something for you below!
Here are 31 Powerful Affirmations for Moms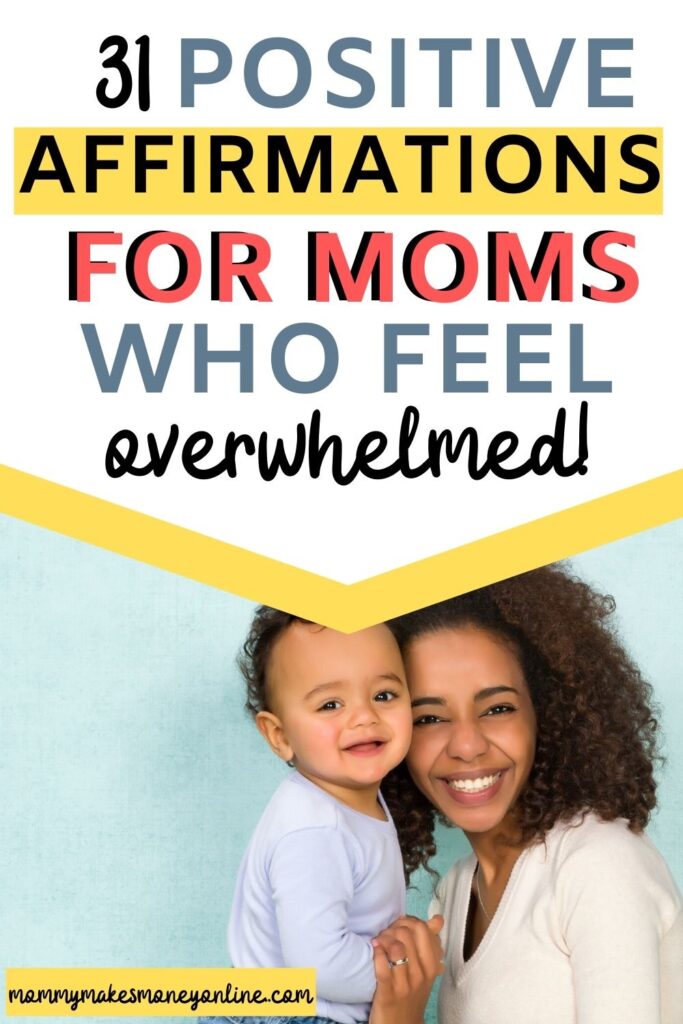 Affirmations for Mothers
I am doing an amazing job.

I choose to take care of myself

I become a more confident mother with each new day

The decisions made by other moms do not need to dictate mine or how I feel about myself as a mother

My family appreciates and loves me, even when they forget to tell me so

Creative energy surges through me and leads me to new and brilliant ideas

Everything that is happening now is happening for my ultimate good

Today and every day I am enough

One bad day does not make me a bad mom, only human

Loving my children is more important than loving every moment of motherhood

I am perfectly healthy in body, mind, and spirit

Peace and joy are filling my life

I will take care of myself in order to be a good mother

I am giving my children the best possible future

I do not expect to be a perfect mother

I am grateful for the opportunity to raise my child

I will provide for my children the best I can

I am grateful for my ability to create life

I am exactly what my child needs

There is peace and love in my home, even in the midst of chaos

I will do my best as a mom, and that will always be enough

I love my children even on the days I don't feel much love

I will be present and in the moment when talking to my children

I will show my kids love through my actions and words

I am grateful for all the new experiences

I was not made to give up

I will bend so I won't break

I accept myself unconditionally 

I acknowledge my own self-worth

I will work hard to support my family

They call it chaos, we call it a family
And there you have it, an epic list of positive affirmations for moms!
These are the perfect affirmations for when you feel overwhelmed which will be often.
Repeat them and you will fill better in no time. 
Which of the affirmations do you relate with a lot more? 
Honestly, all over them speak to me on a personal level. 
Affirmation cards for moms
If you want positive affirmation cards, we created some for you that you can download now!
These affirmations for the overwhelmed mom are perfect if you want a constant reminder of what an awesome job you are doing every single day!
They are totally free and can be found in our Mom Library! 




We hope these positive mom affirmations will do wonders for you! 
I know I have needed to use them a lot because life happens and you can not be everything at once. 
Just breathe, take it one step at a time and affirm something positive.
I believe using daily positive affirmations should be part of your daily routines for moms to ensure continuous growth as a person.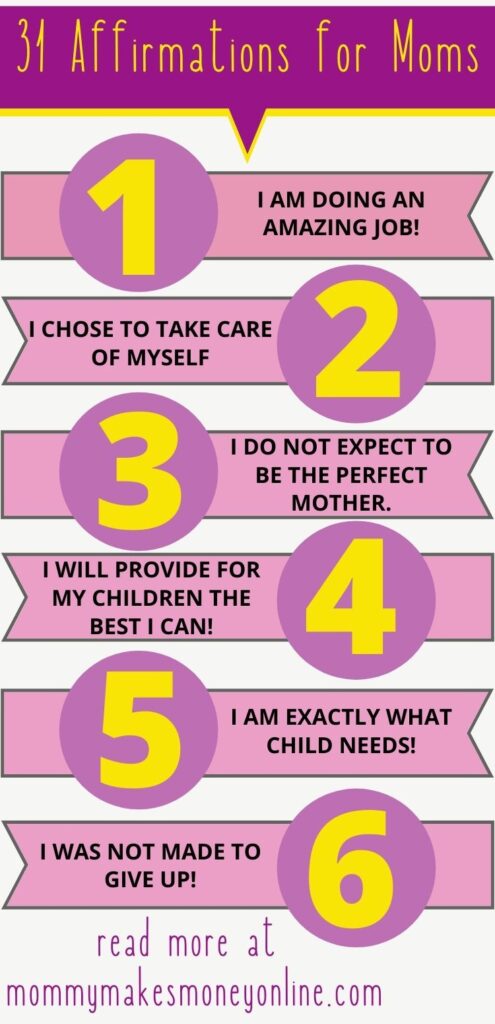 31 Positive Affirmations For Moms Who Feel Overwhelmed