Best travel toys for toddlers
If you are looking for the best toys for toddlers on a plane, then you have come to the right place.
Travelling with a toddler in a car can be, shall we say, interesting?
Travelling your toddler on a plane or any toddler for that matter can be downright terrifying.
I remember when I travelled to Mauritius with my little girl and even though we had the time of our lives. 
The trip going was a nightmare. 
She was just turning 3, it was a 2-day flight with a few stops but man, it was stressful. 
Stuck on a plane for hours at a time with a child who doesn't like to be still or quiet while the other passengers on the plane judge your parenting skills?
Who wants that?
No thanks!
You can fly with your toddler without fear or frustration (theirs, yours, or your fellow passengers) if you just find the right toys ahead of time. 
Honestly, finding anything to distract them is better than having them scream and cry for 5-8 hours each flight. 
With a bag full of the right toys your toddler can stay occupied, and relatively quiet for the duration of your flight.
When we travelled again, I looked up the best travel toys for 3-year-olds at the time. 
This post is a general post and you can determine what is appropriate for your child or kids. 
I get all sorts of personal questions from moms such as:
How do I keep my toddler entertained on a plane?

How do I keep my toddler happy on a plane?

What are the best airplane activities for toddlers?
Lucky for you, this post can help you out a bit. 
I did do my research before flying but I guess I needed to stick to things that would make my own daughter feel happier. 
So what are the best travel toys for kids?
Before we get started on the best toys for toddlers on a plane, we did want you to follow us on our sister Facebook for more awesome ideas on saving or making more money. You can also follow us on our sister Instagram account as we share one for more tips.
We also wanted to take the opportunity to let you know that we use Affiliate links on some of our blog posts. This means that we could make a commission if you click on an affiliate link and purchase something. Read our full disclosure and blog policy for more information.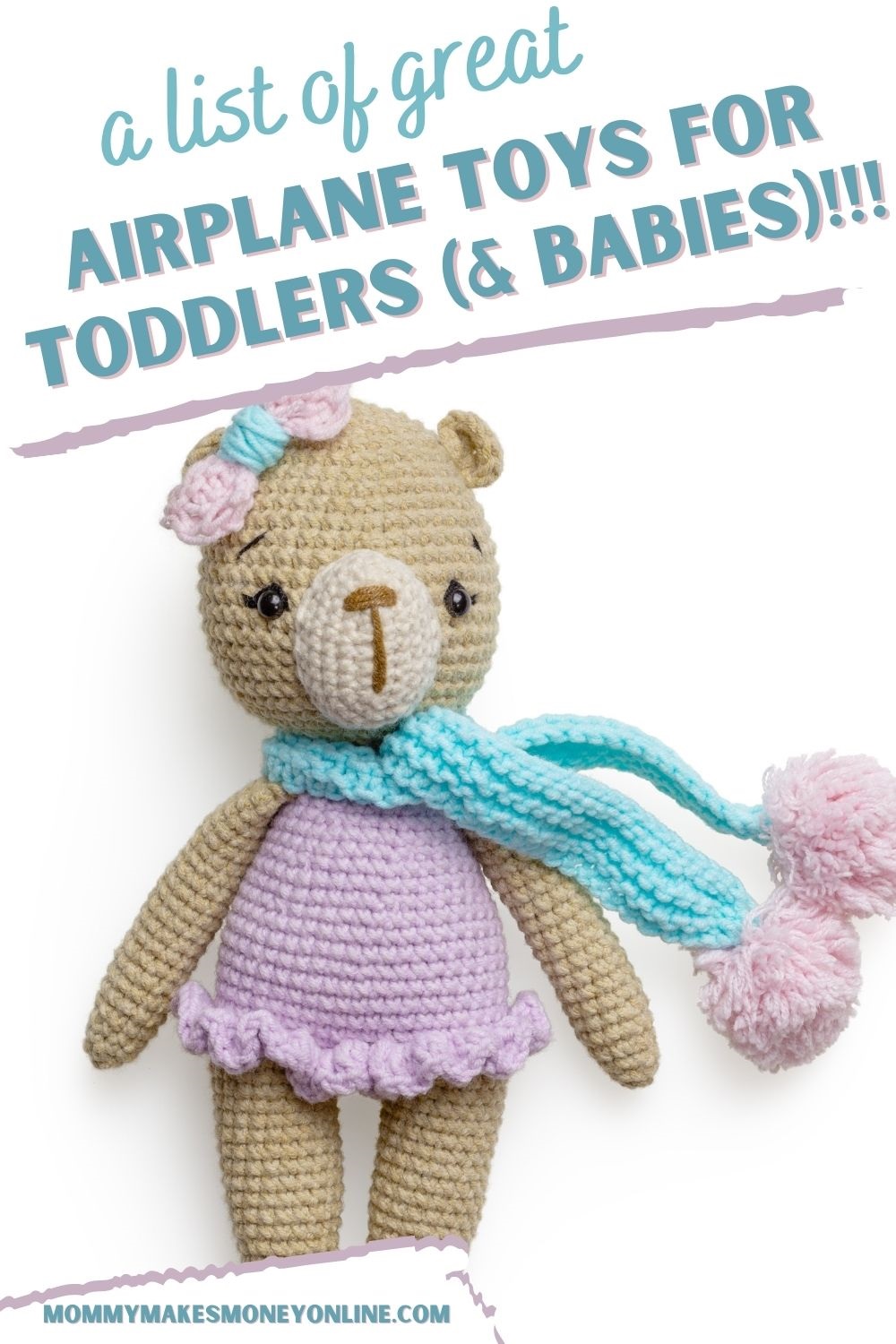 Here are a few things to consider before purchasing any airplane toys for toddlers:
I know you are excited to get a few toys to keep your kids entertained during long flights. 
I know I was really excited. 
But there are a few things I didn't think about. 
So don't get anything that will distract other passengers (nothing loud)

Avoid toys that have small parts (they will get lost)

Stick to things that can entertain your kids longer than 45 minutes 

If you get electronics like a tablet – have toddler headphones 

If your kid has a favourite blankie or toy, I would store it to avoid losing it (but have it handy) 

Avoid anything that could create a big mess
Honestly, at the end of the day, the best toys for toddlers on a plane should be quiet and something that will hold their attention for more than just a few minutes.
Here are some of the very best toys for toddlers on a plane:
1. Tangle Fidget Toys 
Fidget toys of any kind are great options for your toddler to play with on the plane.
They are small, quiet, and can keep them occupied for quite a while.
You could even carry a couple of fidget toys in your purse or diaper bag to have handy anytime you need to keep your toddler quiet and occupied.
These fidget toys come in a set of three which means that you can keep more than one child quiet and occupied or you can play with them as well, they can also be put together. 
2. Liquid Motion Bubbler
Is there a toddler who is not fascinated with bubbles?
Probably not!
My daughter loves bubbles and can play with them all day long. 
If you kids love bubbles too, then consider getting a Liquid Motion Bubbler!
A liquid motion bubbler like this one can help your toddler to calm down if they are feeling anxious, and it is very relaxing to look at if you are trying to get them to wind down for a nap. 
3. Wipe-Off Cards
I saw these epic activity packs on another mom blogger's site and decided to get them for my daughter. 
Honestly, she can play with them ALL DAY LONG. 
And for this reason alone, I vote this one of the best travel toys for toddlers! 
It's actually called Travel Doodles (Activity Cards).
They are perfect and so easy to use. 
I love the fact that they can easily be wiped clean and used multiple times. 
Definitely clean them right away after each use. 
4.

Reusable Water-Reveal Activity Pads
These right here are some of the best airplane activities for toddlers! 
This exciting activity pad features reusable pages that come to life when wet.
The white pages include simple line drawings when they are dry and will transform into colour when wet. 
Simply use the pen to colour in each scene; details and vibrant colours appear with every stroke your child makes!
Once you are done, just let the page dry to erase the pictures!
It can be used multiple times which makes it one of the best airplane toys for toddlers. 
It definitely perfect for your kids that are between the ages of 3 and 7!
5. Tablet & Headphones 
Even if you normally limit your toddler's screen time when you are travelling by plane it might be a good time to relax the rules.
A tablet with headphones and your toddler's favourite movies, TV shows, or games can help to keep your toddler occupied for quite a while.
Make sure that you throw a portable battery bank in your purse or bag in case you need to recharge it. 
I am not against tablets personally and I know a lot of parents typically are.
I use our ours mostly for educational purposes as she learns to repeat words, spell them out and do other creative things. 
When it comes to watching TV shows or listening to music, I tend to cap this to a limit. 
If you get a tablet, I suggest getting this particular make (combo) or the Amazon fire kids edition!
Don't forget to grab a stronger cover like this one if your tablet doesn't come with one.
6.

Reusable Puffy Sticker
If you are looking for simple activities for toddlers while travelling on an airplane, consider these reusable puffy stickers. 
Whenever I am travelling with my little one I like to make our surroundings feel like home so she is not too stressed. 
So if you are on an airplane and you happen to get the window seat, let her decorate her side with these easily reusable stickers.
Get your kids' creative juices flowing by taking turns telling a story with these vibrant and colourful stickers.
Keeping toddlers busy on a plane can be hard, but stickers always seem to do the trick.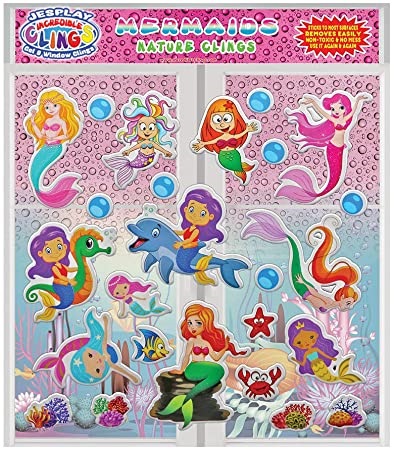 7. Stickers and Sticker books
Speaking of stickers, if you are looking for simple activities or travel toys for toddlers on a plane,  get your kids some stickers. 
My daughter LOVES stickers. 
Stickers and sticker books are a great and inexpensive way to keep your toddler quietly busy and sitting still.
You can grab paper stickers that are single-use at any dollar store, or you can get a book like this one where the stickers are reusable for hours of creative fun. 
8. Crayons and Paper
Most moms of toddlers always have a couple of crayons and some paper in their purses.
This can keep your toddler entertained as they draw a picture, practice their alphabet, or even fold or tear the paper. 
I love a good colouring book and my daughter enjoys it too. 
So you can definitely have great fun colouring on a plane. 
9. Busy Board or Bag
A busy board is a lightweight board that has a variety of activities built into it such as zippers, laces for tying, buttons, and buckles.
The board keeps your toddler's mind and fingers active while they practice important life skills.
You can also get a busy bag like this one, where you can use the bag to hold your toddler's other toys and activities while also having the bag to play with. 
10. Look and Find Books 
Look and Find books are another great quiet activity for you to share with your toddler on a plane.
They will have a great time searching for all of the hidden objects on the pages and it can keep them busy for a while especially if you have more than one. 
Each Look and Find it book includes 20 activity pages filled with games, puzzles, mazes and searching activities. 
11. Small Airplane Toys For Toddlers
Small toys like plastic dinosaurs, farm animals, or toy cars can be great for your toddler to play with on a plane.
You can easily pop a few of them into a Ziploc bag and put them in your purse or inside your toddler's travel bag.
They can make up stories about their animals and move them around to act it out. 
12. Magnetic Play Set 
Magnetic playsets are great toddler toys for a plane because the set acts as a carrying case for the magnetic toys, and your toddler can play with the toys right on the case.
Since they are magnetic they aren't likely to get lost like some toys might.
There are lots of different themes and character magnetic playsets to choose from so that you can find one that your toddler will love. 
13. Classic Play-Doh
I am honestly not a fan of Play-Doh but I know most kids LOVE Play-DohPlay!
For some reason, I find it is messy and on a plane, it might not work. 
But if your toddler loves Play-Doh, then why not.
I did end up taking a small pack of Play-Doh once and although my daughter enjoyed it, she didn't use it for too long.
Play-Doh is definitely great for any age type. 
If you want to ensure your kids enjoy this for a while, get one that comes with a set of moulds so you can design and create fun things. 
Or even a simple play-doh set!
Although this one is great and I added it to the list due to its popularity, I wouldn't personally consider it one of the best toys for toddlers on a plane!
14. Wikki Stix
I very recently discovered Wikki Stix.
My daughter and I, enjoy playing with them. 
Wikki Stix is an award-winning original waxed yarn creativity toy.
They're made of hand-knitting yarn enhanced with a microcrystalline, food-grade non-toxic wax, the kind used in bubble gum and lipstick.
Honestly, they are fun and colourful to play with, soft and pliable, and they stick to each other for that 3-D creativity effect. 
And guess what?   
There's no prep, clean-up, or mess involved.  
Say yes to Wikki Stix right here!
Definitely votes as one of the best airplane toys for toddlers by mamas. 
15.

Magnetic Doodle Board For Toddlers
Who doesn't love to toddle?
I know I do it (especially during boring meetings -shhh). 
But in all seriousness, kids love to doodle. 
So if you are in search of the perfect travel toys for toddlers, consider grabbing this Doodle board. 
It's perfect for kids that are creative and want to just have fun. 
It comes with a cute magnetic pen and an erase brush which makes it easy to use over and over. 
And there you have it, a list of the best airplane toys for toddlers!
These toys will help you keep your toddler's mind and hands busy while you are on the plane.
You should also include any of your toddler's favourite toys or books in their activity bag as long as they won't be an annoyance to your fellow passengers.
Toddlers tend to have a short attention span so pairing a few familiar toys along with a few new ones from this list can help them pass the time more easily.
What do you think are the best toys for toddlers on a plane? 
Tell us in the comments below. 
Read next: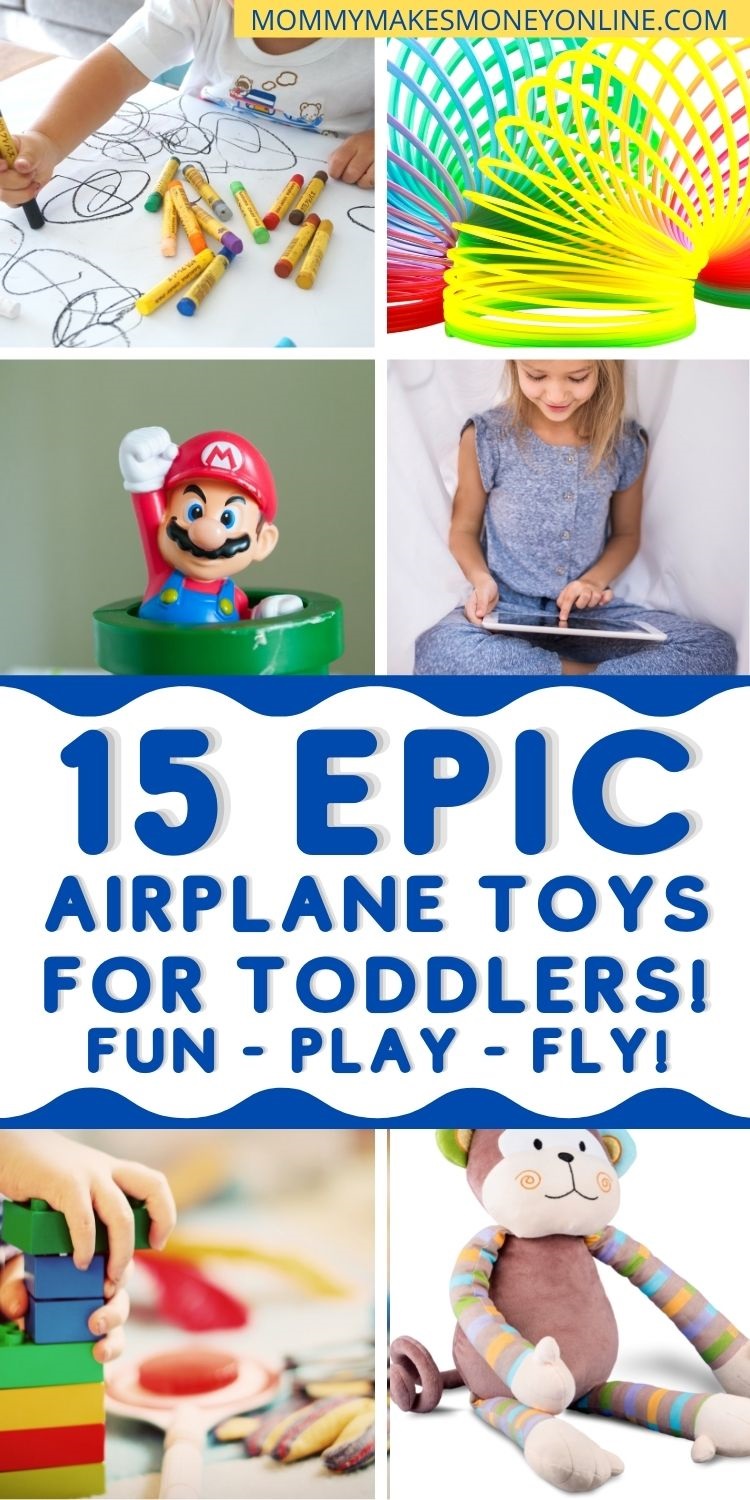 15 Best Toys For Toddlers On A Plane {Best Travel Toys Review}