Ways to make money while pregnant
Ready to learn how to make money while pregnant?
You can easily find ways to pay the bills and build up your savings, even when pregnant.
These easy ways to make money while pregnant will prove that you can still put your feet up and relax while raking in the dough.
Pregnancy can be difficult. 
If you can get a job working from the comfort of your own home, things can feel a bit easier. 
For those that are pregnant and need a job from home, we are going to list 11 amazing jobs you can start from home. 
This post is for all those that are pregnant and are looking for ways to make extra income from home. 
Here are a few amazing questions I get from moms that are expecting:
What work can I do from home while pregnant?

What is the best job to have while pregnant?

How can a pregnant woman earn money?
As always, we love answering questions from our readers. 
This ensures that we continue helping all other moms that may be asking the same questions. 
Don't forget to check out our library packed with amazing mom-freebies before we get started.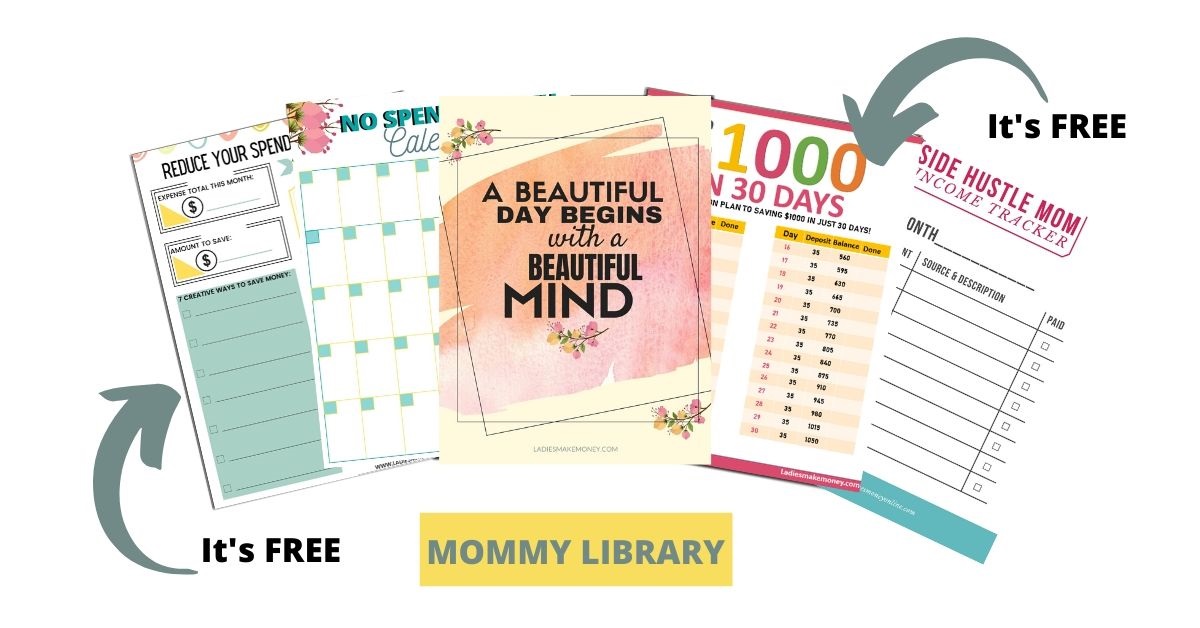 So what are the best jobs for pregnant moms?
Before we get started on how to make money while pregnant, we did want you to follow us on our sister Facebook for more awesome ideas on saving or making more money. You can also follow us on our sister Instagram account as we share one for more tips. 
We also wanted to take the opportunity to let you know that we use Affiliate links on some of our blog posts. This means that we could make a commission if you click on an affiliate link and purchase something.
Here are a few easy jobs to do while pregnant that just might turn into a side gig or full-time hustle that you love.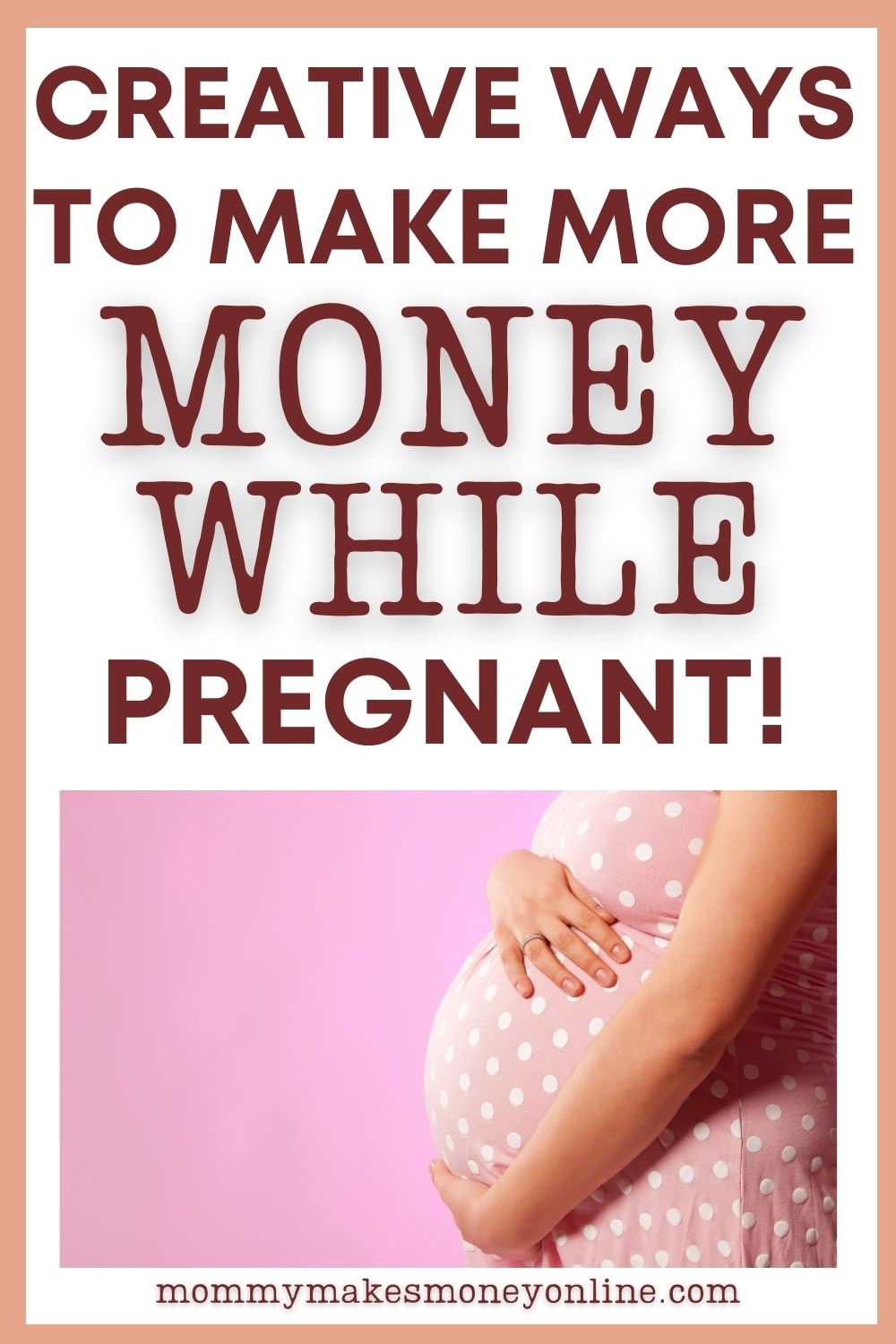 How To Make Money While Pregnant
While there are many ways to earn extra cash when pregnant, these are just a few simple options that should be at the top of your list.
1. Start a blog
If you are looking for easy jobs for pregnant women, you should consider blogging. 
Starting your own blog can open a whole new world of money-making opportunities.
While it does take a bit of money to start earning traffic, there are ways that you can earn money from your blog right from the start.
Creating a course, selling online printables, or advertising for local businesses are just a few of the simple ways to make extra income while pregnant.
Those that are interested in starting a profitable blog to make extra money while pregnant, can sign up for this free 7-day email course.
Six-Figure Blogger course by Create and Go which helped me become a full-time blogger in no time. 

2. Become a proofreader while pregnant
Looking for work-from-home jobs for a pregnant woman can be a stressful job in itself on top of everything else you may be going through.
But there are plenty of amazing opportunities for you if you know where to look.
A good example is proofreading jobs. 
Do you like correcting other people's mistakes?
There's actually a big need for that?
Why not get paid for finding errors in other's work?
Sounds like a sweet gig, right?
As long as you have a keen eye for mistakes, you can easily start being a proofreader pretty much immediately.
Contact your local papers or magazines or start reaching out to online venues and blogs as well.
When people's livelihoods depend on delivering accurate information, they're going to want someone with an eye for detail to correct all their mistakes.
Go ahead and sign up for this free proofreading workshop to learn exactly if this job may be for you. 
Here are a few things you can edit if you do choose to become a proofreader: 
Courses 

Transcripts

Academic papers

Resumes

Press releases
I highly recommend you to sign up for this free proofreading webinar to learn the basic tips and strategies to earn up to $40, 000 a year as a beginner proofreader while pregnant.
3. Become an online coach
If you are pregnant and need money, consider becoming a coach.
The coaching world is literally blowing up.
Since our world is so accessible via technology, that means that you can connect and work with anyone all over the world.
This means that you can be a coach to someone in a different state or country easily.
One of the biggest things to keep in mind when becoming a coach is that you need to be considered an expert in what you're coaching.
When people are paying you for your help, you need to be able to deliver quality advice that can help them in whatever issues or needs they're having.
4. Test websites to make money when pregnant
This is a relatively new way to make money online at home and is something that you should really look into. 
If you are looking for a job while pregnant, consider this new side hustle opportunity. 
User Testing is a website that pays you to test websites. 
Get paid to share your perspective with global brands around the world. 
You get paid $10 for each website you review and test and $15 per website that you mobile test.
This is one of the best jobs for pregnant moms as it requires little to no effort. 
If you are interested in learning more about how to make side money by testing websites, the tasks are relatively easy.
What you do for this online job is that you will go on a person's website and it will all be recorded (just your computer screen is recorded as well as your voice so that customers can see what exactly it is that you are doing).
You will navigate around the website, say what you like and dislike about it, what you recommend they change and more.
You do not need to be a super technical person for this online job as they want real people to review websites to see what people really think.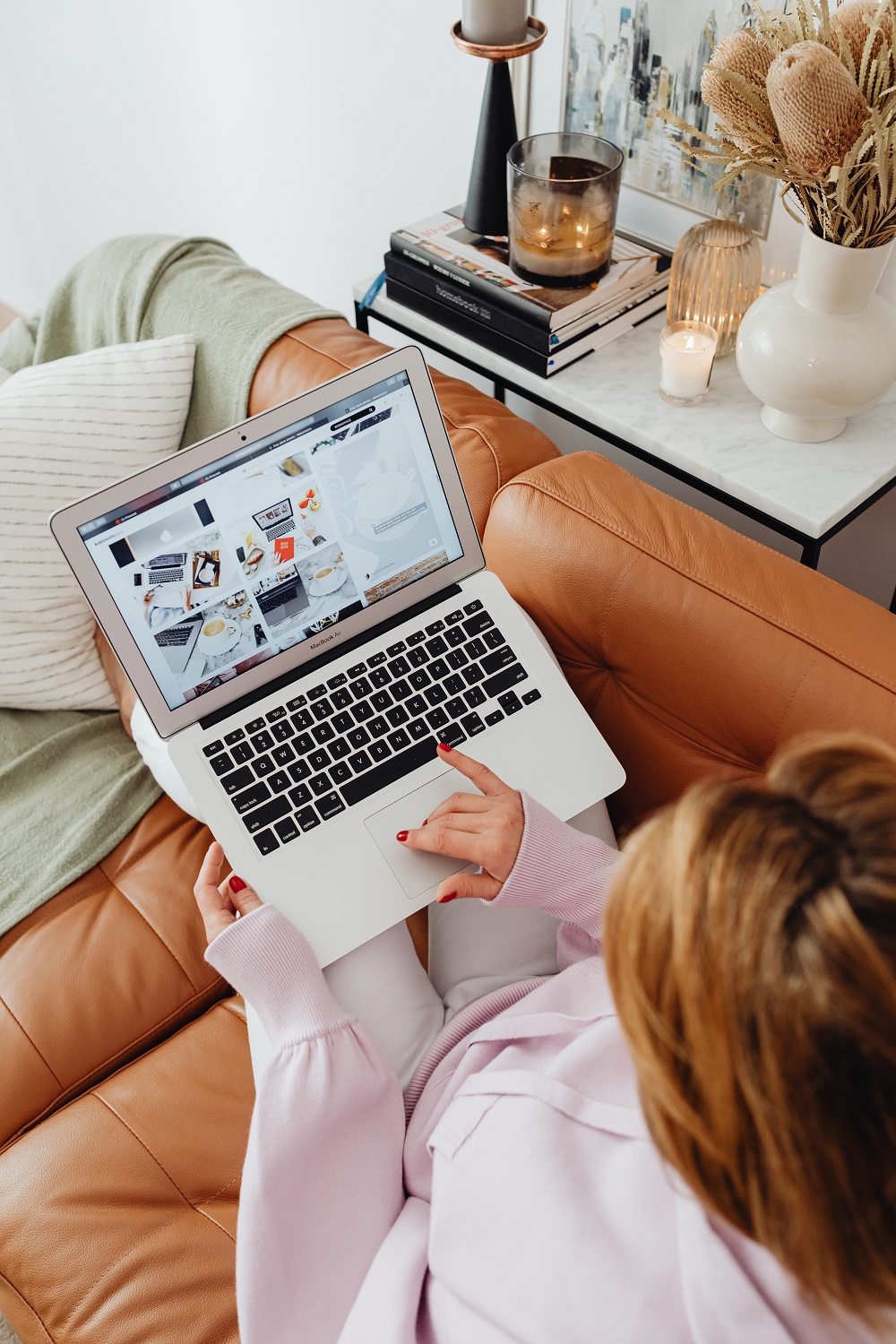 5. Become a Pinterest VA
As you know, Pinterest has over 290 million active users and growing every month.
Over 24% of the United States uses Pinterest on a DAILY BASIS.
This goes to show that it is huge for businesses.
Pinterest is a must for small and large business owners, which is why Pinterest Virtual Assistants are in high demand. 
Pinterest Virtual Assistants can make businesses A LOT of money, which is why businesses hire Pinterest Virtual Assistants.
But what is a Pinterest VA?
A Pinterest VA (virtual assistant) helps small and big bloggers, business owners, entrepreneurs, and creatives grow their online presence, brick-and-mortar store, or freelance services through the social media platform Pinterest!
You may be wondering how to get started as a Pinterest VA, where to find clients, how much to charge, and more.
Become A Pinterest VA Today teaches you all of these things.
As a Pinterest VA, you can live and work anywhere in the world.
In fact, you'll see many Pinterest Virtual Assistant testimonials here of women who work and travel.
You can attend a free workshop here to learn more about how to become a Pinterest Virtual Assistant today and learn everything there is to know about how to make an extra $1,000-2,000+ per month!
6. Advertise your VA services
This is actually quite a popular and fast-growing way to earn money online and one of the best pregnancy-friendly jobs! 
If you didn't know, VA stands for virtual assistant and it's an awesome way that you can earn money from home while pregnant.
The great part about being a virtual assistant is that there will never be a boring day, ever.
You'll have to know quite a few skillsets but those can easily be learned as you go, too.
The most popular reasons why companies or even people hire virtual assistants are to help them get organized or to grow their business.
Some simple VA tasks could include:
Answering emails

Cold calling

Writing blog posts

Editing and formatting online content

Creating educational materials

Organizing their calendar
And the list could go on and on.
Basically, as long as it's ethical and something that you're able to handle, you'll find that being a VA means that you'll be doing a ton of different tasks.
And here are 50+ more services you can offer if you plan on making extra money while pregnant as a virtual assistant.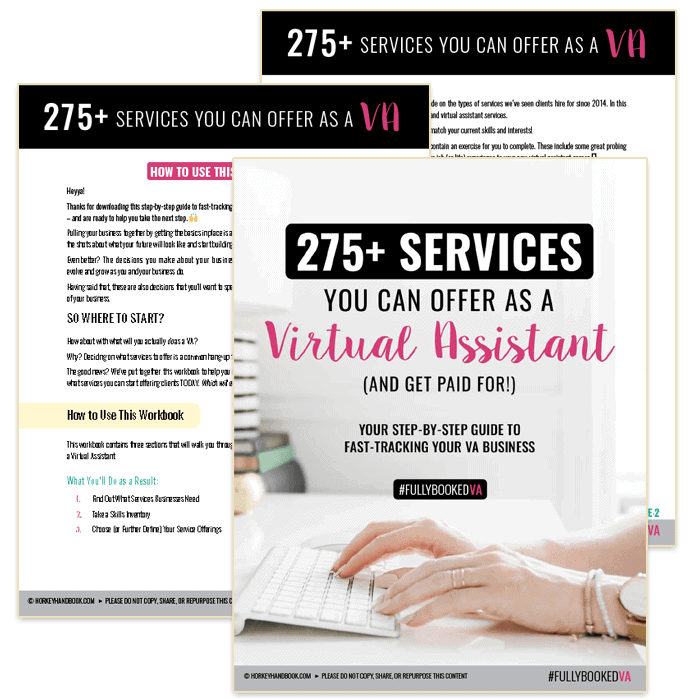 Grab this epic guide today to find out exactly how to get started offering these amazing VA services and getting paid for them.
And if you want to jump-start your VA business —->> you need this!
7. Make money transcribing while pregnant
One of the best side hustles for pregnant women are jobs that can be done at home and on your own time. 
Transcribing not only will help you make extra money but is also easy to do. 
Even if you have no transcription experience, you can still make good money transcribing from home. 
Transcription is a really useful skill for anyone to have and it's definitely a great way to make money online.
If you looking for flexible jobs for pregnant women, this one might just be it.
Janet started working from home as a medical transcriptionist.
Shortly after that, she started a successful general and legal transcription business.
She is such an inspiration, you should consider learning from her.
One of my favourite blog posts is one she shared about working from home as a transcriptionist – and solid tips for making it work.
If you want to know more about what it entails to become a transcriber, then you need to sign for her FREE webinar right here. 
In her FREE webinar (which you have hopefully signed up for), you will learn:
What a transcriptionist is

How you can get started as a transcriptionist

What kind of money you can expect to make

The type of training you need, and more
Learn more at Make Money At Home By Becoming A Transcriptionist right here.
8. Start a virtual workout class for other pregnant women
This is a fabulous idea.
Staying fit while pregnant is a big concern for many women.
And if you're into exercising and have been doing so before becoming pregnant, why not share that activity with other women who can benefit as well?
A few simple classes a week could be a great way to stay fit and active while also earning some money.
Just be certain to talk to your doctor to verify that it's okay for you to be doing physical activity at that point in time in your pregnancy.
9. Become a Stella & Dot Stylist
Another amazing work-from-home opportunity for pregnant women is becoming an Ambassador for Stella & Dot! 
If you love fashion and accessories as much as we do, then you should consider becoming a Stella and Dot Stylist!
Honestly, this is a great program that will help you make money from home as a mom if you enjoy fashion, and looking cute!
I know Stella and Dot Stylists that have turned this side job into a full-time business.  
And you absolutely do not have any experience or sale experience needed to become a Stella and Dot Stylist.
The business is always looking for talented moms like you to join their team to become independent stylists!
I definitely recommend you to go here to apply to become a Stella and Dot Stylist to make money while pregnant!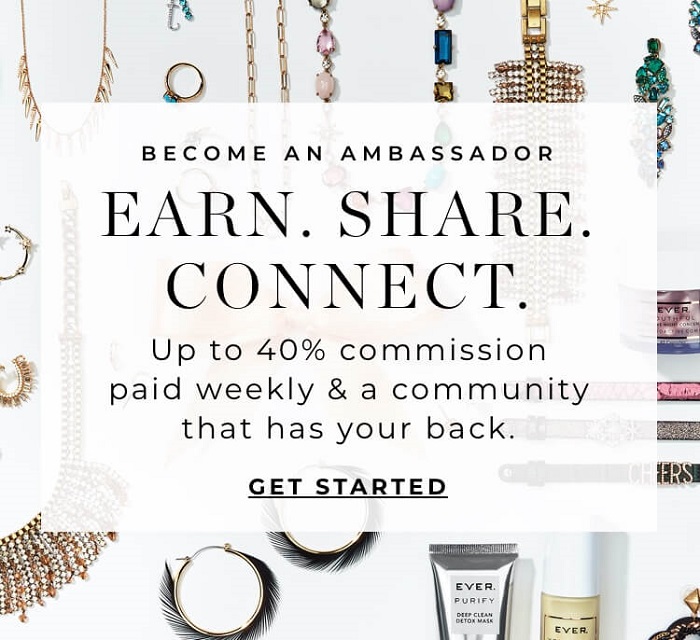 10. Make money while pregnant teaching English online
You can make great money teaching English online to children.
Everyone I know is making extra money online teaching English these days. 
For anyone looking for ways to make extra money when pregnant, should absolutely consider teaching English online in your spare time.
The hours are absolutely flexible, the pay is great and you will be working with kids which is fantastic. 
The best place to find teaching jobs for pregnant women is through VIPKID. 
VIPKID is a company that allows you to work from home, create your own schedule, and earn between $18-21 per hour.
They hire frequently, so I would suggest you apply as soon as you can. 
Here are VIPKID's teacher requirements:
Applicant must have an undergraduate degree

Minimum one year of traditional teaching experience or the equivalent in mentoring, tutoring, or alternative education

You need internet and a computer

Lesson plans, course materials, etc. are all provided by VIPKID

You should have fun teaching engaged children
Go ahead and apply to teach through VIPKID here.
11. Become a bookkeeper to make extra money while pregnant
Ben, is the founder of Bookkeeper Business Academy, explains how becoming a bookkeeper may be a possibility for you.
Ben helps people start and grow their own bookkeeping business with his online bookkeeping course.
And, guess what?
You don't have to be an accountant or have any previous experience!
In this interview, we talk about:
What a bookkeeper is.

The typical clients a bookkeeper has

How much new bookkeepers can earn

How to become a bookkeeper.

The positives and negatives of bookkeeping, and more.
Learn more at Make Money At Home By Becoming A Bookkeeper.
Also, you can sign up here for Ben's free series that will teach you more about running your own virtual bookkeeping business.
This online side hustle is perfect for pregnant moms looking to make $1000 or more per month working from home. 
Check out what others are saying right here. 
Those are some of my favourite ways to earn money while pregnant! 
As you can see, there are plenty of online jobs for pregnant moms to do from home.
But there are a few other side hustle jobs that you can do to earn money on maternity leave can be:
Dog walker (if you're not on bed rest!)

House sitter

Baby sitter (great for getting in that practice of having a young baby!)

Online educator

Customer service phone representative
Now that you know how to make money while pregnant, it's time to weed through and figure out what option is going to work best for you.
If you're needing money now, starting a blog is not going to be able to pay your bills right away.
These other options listed will be a much more viable source of income. 
This will then give you the time to work on building your blog if you so desire.
You can also go and sign up for the 30 days to more money challenge below.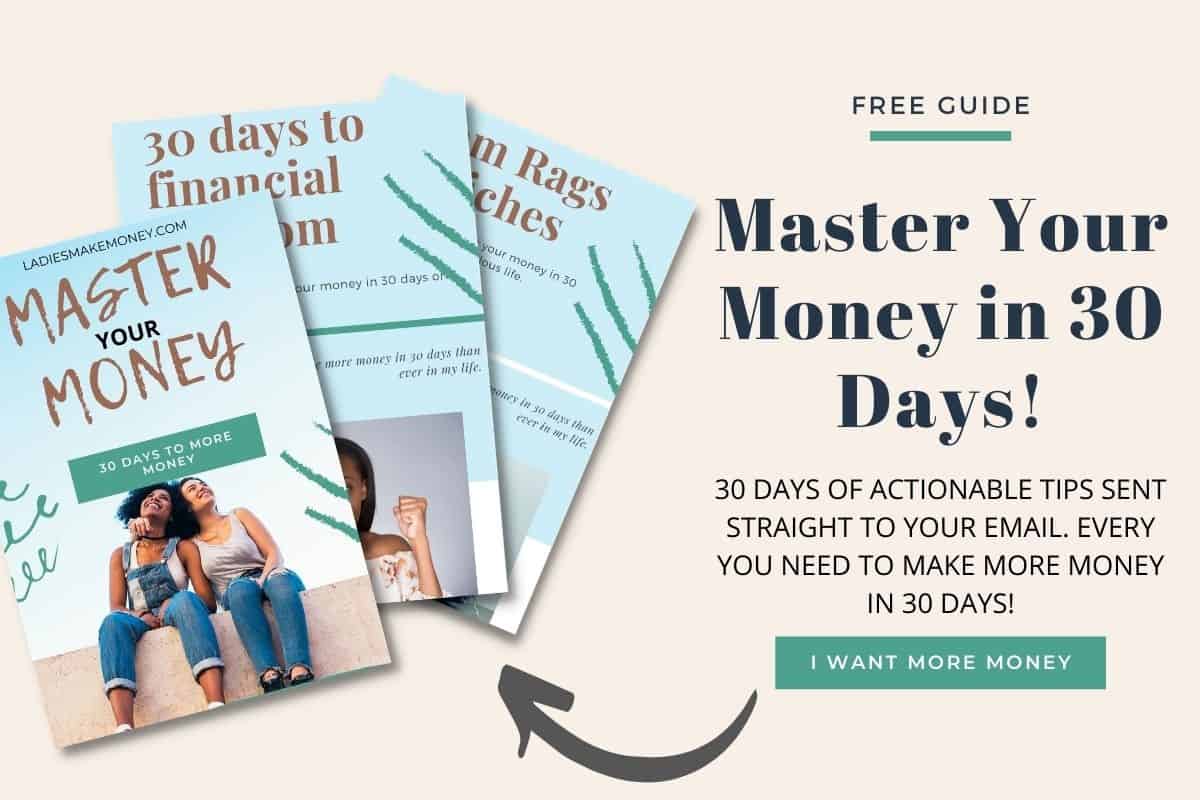 Do you have any other tips on how to make money while pregnant?
Definitely share those tips below so other women can learn. 
For tips to make extra money, I recommend reading other articles on the blog. 
Read this:
How To Make Money While Pregnant – 11 Epic Jobs For Pregnant Women