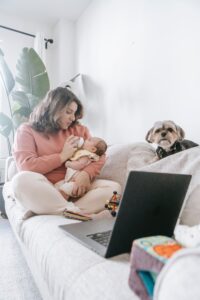 There are so many amazing motherhood blogs out there how do you know which ones to read? Here are 10 awesome motherhood blogs worth reading this year. Why read mom blogs you ask? They are a great source of parenting tips, inspiration, recipes, financial advice, and so much more. No one mom "knows it all" so having a few great motherhood blogs to choose from can help you through whatever given parenting struggle you might be enduring right now. 
Lucie's List is the mom blog for first-time parents who are feeling overwhelmed by their impending parenthood. The founder Meg and her team of writers believe that it takes a village to raise a child and they want to be a part of yours. 
Meg, the founder of Lucie's List found that she missed out on a lot of information about having a new baby and the products they need and she doesn't want the same thing to happen to you. The blog is filled with helpful parenting advice, product reviews, and so much more. There is even a Facebook support group for the community. 
Rookie Moms is a motherhood blog that covers all topics from pregnancy onward. The blog has been active for the past twelve years and there is something here for everyone. One of the founder's Amber is a mom of five through both birth and adoption (domestic and international). She has faced pregnancy medical issues like HELLP syndrome and is experienced with special needs children and running a business while raising children. 
You can find baby gear reviews, parenting advice, pregnancy information and support, and much more on the site. There is also a private Rookie Mom's Facebook group where you can ask questions or for advice or support. 
Tech Savvy Mama is a blog geared towards helping you navigate parenting through the digital age. Leticia, the founder, is an award-winning blogger, mom of two teens, and a middle school educator. She offers helpful advice and suggestions about how you can keep your family and especially your kids safe online. 
In addition to technical advice, she also has educational information, gift guides, and a lifestyle section of her blog. If you are looking for resources for staying safe online you should check this blog out. 
Cherish 365 is a motherhood blog by Jennifer Borget, a part-time journalist and news anchor, wife, and mom of two adorable kids. Her blog was formerly called Baby Making Machine until she rebranded in March of 2017. 
On the blog, you will find a little bit of everything movie, toy, and book reviews, parenting advice, pregnancy tips, DIY tutorials, recipes, and much more. 
If you are looking for a motherhood blog that also helps to show you how to save money and get out of debt then Fun Cheap or Free is the blog for you. This blog has been featured on TLC, Good Morning America, the Today Show, and many more. 
The blog features posts on budgeting, frugal living, organization and cleaning tips, meal planning, parenting, frugal travel, and celebrating special days on a budget. They also offer budget and productivity planners and workshops to get and keep you on track. 
The Six Time Mommy motherhood blog is authored by Canadian mom Jeanine, and she has been blogging about parenting and pregnancy since 2013. Although the title implies she has six children, she really has eight and is expecting twins later this year! 
This blog contains parenting and pregnancy advice as well as crafts, DIY tutorials, recipes, printables, and more. 
My Organized Chaos is another Canadian motherhood blog, and the author Tammi is a mom of three, as well as a travel writer and author. She started the blog to commiserate with other new moms about sleepless nights with twins and to help them find ways to save money on all those necessary baby items. 
Today you can find recipes, organization and budgeting tips, travel tips for the US, Canada, and Disney, as well as product reviews. There is a lot here and you don't want to miss out! This blog has been featured on HuffPost Living Canada, Lonely Planet, Canada.com, and the Calgary Herald among others. 
Ashley is a millennial mom sharing her parenting journey with you through her blog Mommy Week. Ashley has been married for 18 years to her college sweetheart, and she is a homeschooling mom of three, in addition to being a blogger. 
On the blog, you will find travel tips and inspiration, homeschool and parenting advice, DIY tutorials, recipes, and posts on mom life. She also focuses on health and epilepsy, one of her children has epileptic seizures, and she uses her blog to bring awareness to the disease. 
Blogger Caryn Bailey started her blog Rockin Mama as a way to chronicle the first year of her son's life and it has since evolved to what you see now. Caryn is a NICU nurse, mom, and blogger who loves to travel. She and her husband have recently moved from sunny California to Edinburgh, Scotland. 
The blog includes posts on recipes, food allergies, travel, crafts and DIY, entertainment, and great mom advice. There is also a fair amount of Disney content for all of you Disney fans. 
Chelsea Day is the author of the Someday I'll Learn blog. She is married to her college sweetheart Nate, a retired first responder, with whom she had four kids in five years! This homeschooling mom of four loves to travel and also flips houses with her husband in addition to blogging. 
Chelsea has a humorous approach to rugged living and parenting, and the blog often takes on a "he said/she said" approach because her husband Nate writes on the blog too. The blog includes posts on home renovation, gardening, crafts, homeschooling, finances, camping, fishing, and more. 
Now you have 10 motherhood blogs worth reading to add to your reading list, and if you need more you can check these out. Do you have any other motherhood blogs that you would like to add to this list? Leave them in the comments below!