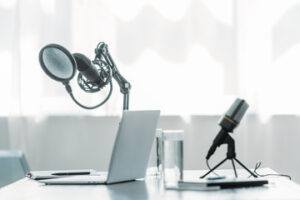 Podcasts are a great source of information and entertainment for busy moms. Here are 8 of the best mom podcasts that you should check out this year. 
Podcasts are so convenient because you can listen to them anywhere, in your car for your commute, while nursing your baby, or even while you are working out or making dinner. There are so many amazing mom podcasts to choose from, and that's why here you will find eight of the best mom podcasts to check out this year. 
The Good Mom Podcast by Jodi Schilling, mom of four and certified life coach, wants you to know that you are a good mom! Society may have conditioned us to think that there are "rules" for being a good mom, but your definition of what a good mom is is the only one that matters. With 46 episodes to choose from and a new episode each week you are sure to find a topic that resonates with you. 
If you are looking for a comedic take on motherhood then Amy Wilson and Margaret Ables are the podcast hosts for you. With 390 recorded episodes and three new episodes each week you are sure to learn a lot and have a laugh. Mondays feature the question of the week, with a regular episode on Wednesdays, and Fridays are fresh take episodes where they talk with experts in a variety of fields. 
Kendra Hennessy is the host of the Mother Like a Boss podcast and she gives you her perspective on the good, the bad, and the ugly of motherhood and homemaking. There are 275 episodes to choose from with a new one released each week. She has a lot of honest conversation, tips, strategies, and tools for moms to add to their toolbox. 
Toni-Ann the host of the Real Happy Mom podcast uses her platform to help other moms, and especially working moms. Toni-Ann is the mom of two boys, a full-time dentist, and a part-time Navy reservist. Toni-Ann's philosophy is that you have to be your authentic self to be a great mom and she offers advice on how to do it. In addition to the 151 archived episodes, she also releases a new one each week. Toni-Ann also has courses, resources, and free working mom secrets available on her website. 
Abigail Wald, mom of to boys, is the host of the Mother Flipping Awesome podcast and her goal is to help you be the best parent that you can be. In addition to more than 150 archived podcasts, plus a new one each week, she also offers individualized coaching to help you figure out your unique parenting style. With episode titles like "Why won't my kid just listen to me", "Can we move through this already", and "A mind flip to flip your marriage" you are sure to find the expert advice for whatever season of motherhood you are in right now. 
The More Than A Mother podcast is hosted by Lawann Moses who aims to help you stop putting yourself on the backburner, and being the best mother that you can be. She has weekly podcast episodes to help you do just that! Not only does Lawann have podcasts, but she also offers coaching sessions as well. Her podcasts are short, but packed with wisdom, and often expert guests. 
The One Bad Mother podcast is a comedic take on motherhood and how unnatural it can be sometimes with no judgment whatsoever. The hosts of the podcast are Biz Ellis and Theresa Thorn and there are new episodes each week, with 421 archived episodes to date. These ladies are sure to make you laugh and give you a new perspective on parenthood so if you are looking for a light-hearted, but informative podcast this is a good one for you. 
Podcasts are a great way to learn more about parenting, or even just to discover that you aren't the only one struggling, there are others right there in your shoes as well. Podcasts are convenient because you can listen to them anywhere whenever you have the time. Take a listen to these 8 best mom podcasts to check out this year and let us know what you think. Do you have another mom podcast that we really need to listen to? If so, leave it in the comments below.