The ultimate guide to building children's home library
Are you looking for the ultimate guide for building a solid home library for kids that is affordable and one that will get used to?
Then you are in the right place.
The early years of our children's lives are full of exploration, discovering independence, and an explosion of learning.
As parents, we all want the best for our babies.
We read up on all the latest information on safe sleep, potty training, the best baby gear, and the cutest little baby books for their bookshelves.
But do we know just how important reading is at such an early age?
Language and literacy are so important in our children's overall development.
Toddlers love to interact with their caregivers and peers.
This is how they learn to communicate, imitate behaviours, and understand the world around them.
When we invest our time in building language and literacy skills in our children, we are giving them the gift of increased chances of success as they advance through their education, and well into adulthood.
I don't know about your kids, but my daughter loves storytime and is so into books! 
If there is one tip I would share with you, is to teach your kids to love to read.
I also encourage you to read to your children, to encourage independent reading or let your kids explore books and more.  
If your children are the same, and they love reading, then it's time to build a home library for kids that will actually get used on a daily basis. 
Lucky for you, we are going to share a few tips on how to create a home library that is affordable.
As always, I write my post based on what the mommy's want to know more about. 
With that, we get asked frequent questions such as:
How do you start a children's library?

How can I make a kids library at home?

How do I organize my small home library?
As always, no question is silly and aim at helping as much as possible. 
We are going to share simple tips for building a home library.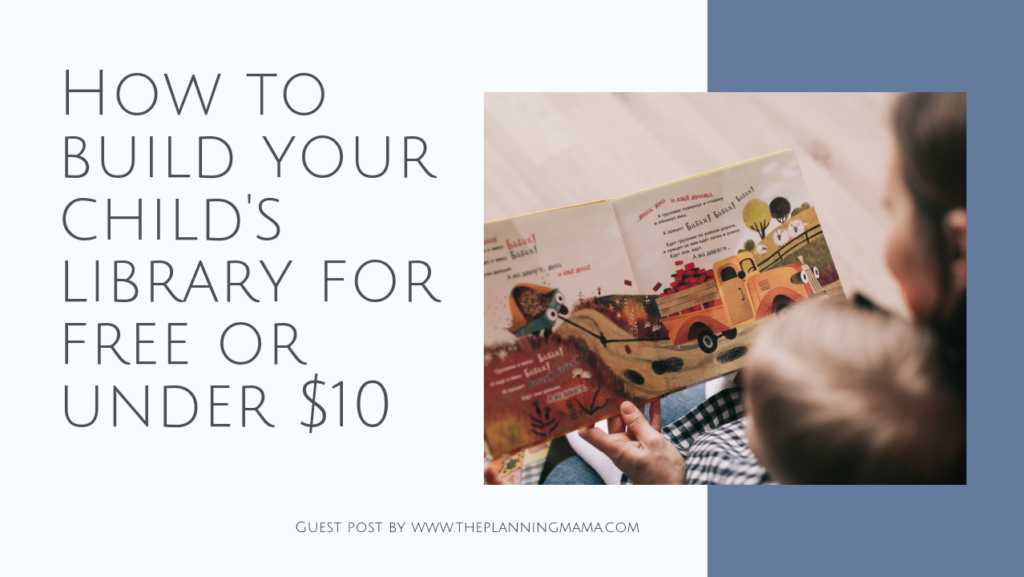 Here are our best tips for building a children's home library
Before we get started on how to create a home library for kids, we did want you to follow us on our sister Facebook for more awesome ideas on saving or making more money. You can also follow us on our sister Instagram account as we share one for more tips. 
We also wanted to take the opportunity to let you know that we use Affiliate links on some of our blog posts. This means that we could make a commission if you click on an affiliate link and purchase something.
Start building your child's library now
Now that we know why it is so important to build your toddler's library as early as possible.
Regularly reading to, and engaging in conversations with our children helps set them up for success in life by:
Developing a larger vocabulary to better express their feelings and put their needs into words.

Entering and continuing their education with a love of learning and appreciation of reading.

Giving them the confidence to speak for themselves and engage with their caregivers and peers.
Depending on your state, there are programs dedicated to educating parents and caregivers on brain development in the early years of your child's life.
The ages they focus on vary by state, but they all promote the same message: These years are critical in your child's brain development.
The how and where to start a home library for kids:
Building a library from scratch can be expensive, but with these great tips, it absolutely does not have to be.
Some of these programs are based on state and county resources and participation.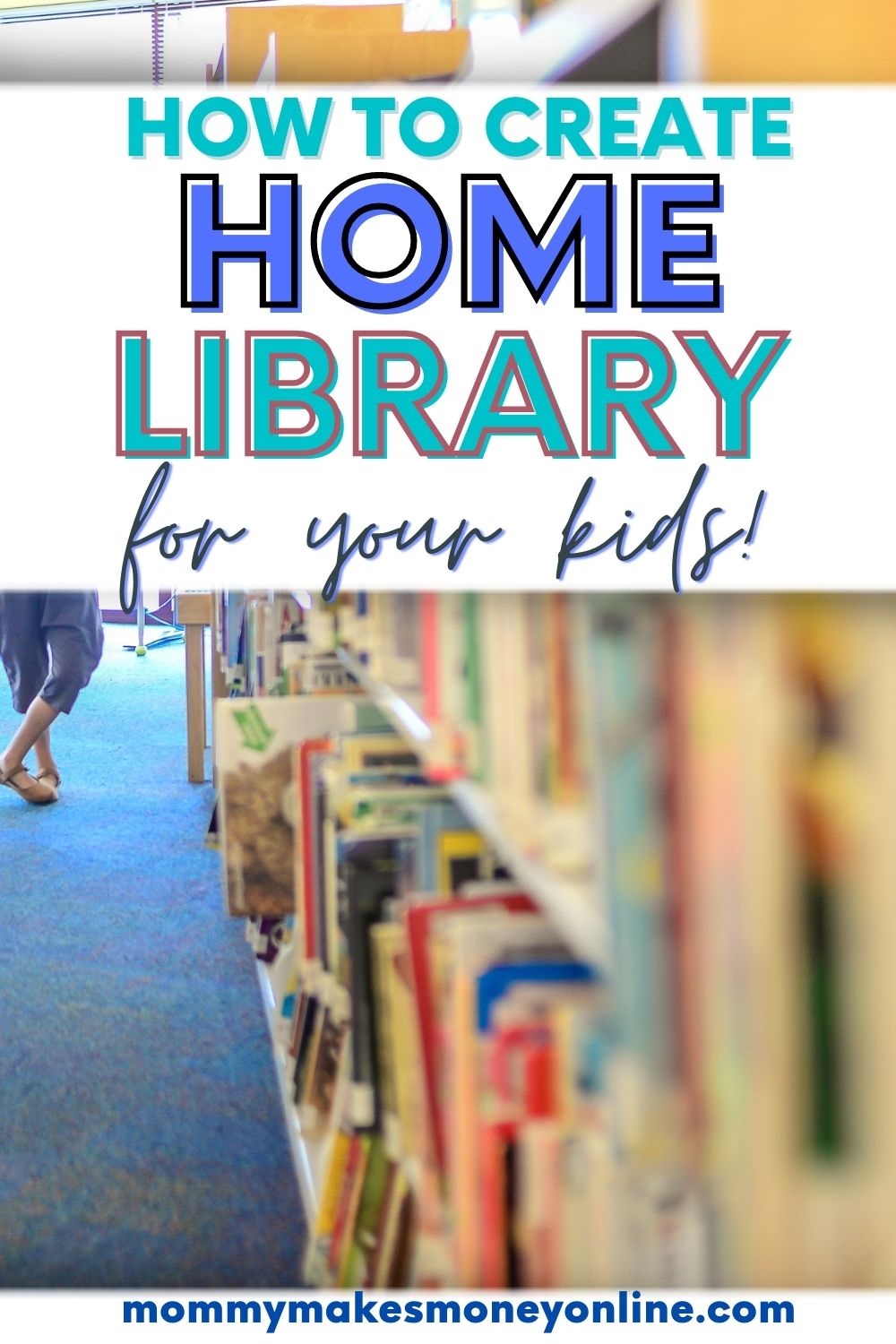 1. Dolly Parton's Imagination Library
Check out the Dolly Parton's Imagination Library.
With this program, your child will receive 1 free book each month by mail until their 5th birthday.
This means that if you sign up from birth, that is 60 FREE books!
I subscribed my youngest son to this program at birth, and we have been exceedingly impressed with the books we receive.
Some highlights of joining Dolly's Imagination Library include:
Multiple children in your home (under age 5) can sign up. This means your newborn AND toddler can sign up together and get their own books each month.

Each book is age-appropriate.

You do not have to pay anything for the books, only the cost of a stamp and envelope to mail the enrollment form in.

You can sign up in person at your local sponsoring office. (locations are listed by zip code on the website)
2. Little Free Libraries
Have you seen those little free libraries around town?
You can find them in people's front yards, or at various public parks and playgrounds around town.
I just recently discovered that there is a whole website dedicated to them, including their GPS locations!
These little free libraries have lots of books for everyone of all ages.
We like to stop and check them out on our walks with the kids and let them browse for a book or two.
These are a great way to recycle your outgrown books, get some new ones, and explore your neighbourhood.
3. Yard Sales
People love to sell their old books at yard sales, fairly often they will put them in a "FREE" bin when they have too many or received them as gifts over the years.
So if you are looking for ways to build a home library for kids that is affordable, check out yard sales. 
Our small towns have annual city-wide yard sales every summer that last anywhere from 5 to 10 days.
You can also use Facebook Marketplace to find ones near you.
This is a great opportunity to load up on books that other kids have outgrown.
I personally have never seen children's books for more than $0.50 cents each at yard sales, especially if they are for younger infants and toddlers.
A great yard sale tip is to ask if they offer a "fill a bag" price instead of individual prices.
This is great if they have LOTS of books and little interest from buyers.
Usually, towards the end of the weekend, people are willing to let things go for even less just to get rid of them.
Take advantage of this opportunity!
4. Thrift Stores
Thrift stores, resale stores, and used bookstores are all great ways to get books for little cost.
Some even offer coupons you can use to get even more for your money.
It's always a good idea to call ahead to make sure they have children's books and what their price range is.
You can also ask when they offer sales and plan accordingly.
As an avid thrifter and former daycare owner, I can tell you that I have purchased quality children's books ranging from $0.10 to $0.99 at most thrift stores.
I once filled a diaper box with toddler appropriate books for $9 at Goodwill during a big sale!
5. Local libraries and elementary schools or preschool programs
There are lots of grants and funding coming into libraries, schools, and preschool programs.
They often use some of this money to upgrade their book selections with fresh new content.
When they do this, they will usually have a sale to the public to help recycle old books back into the community.
These events can be found on your local community education website or flyers.
If you aren't sure where to find this information, give them a call directly and ask.
I was able to connect directly with my local library to confirm that they always have a table dedicated to books for sale.
And there you have it, our best tips for building a home library for kids!
Take advantage of these great tips and gift your child with a love of reading and an affordable library.
Children should not have to go without books as a result of income limitations.
This article was written to help great parents, like you, find quality books at affordable prices.
There are so many resources available to parents and children to help them succeed.
Another great way to get free books not mentioned above…just ask! Friends, family, local BST groups.
There is a whole community of people out there who want to see our children succeed.
Whether you are preparing for a new baby or you already have a little one at home, remember to focus on building their library too.
Having a library and reading together is also a great way to bond with your child as they grow.
If you're having trouble finding time to get daily reading in, try establishing a simple bedtime routine with your child.
Do you have more great suggestions for free or cheap books?
I would love to hear about them.
Comment below and let me know which of these ideas worked the best for you and your family.
I love to hear feedback and ideas from moms just like you!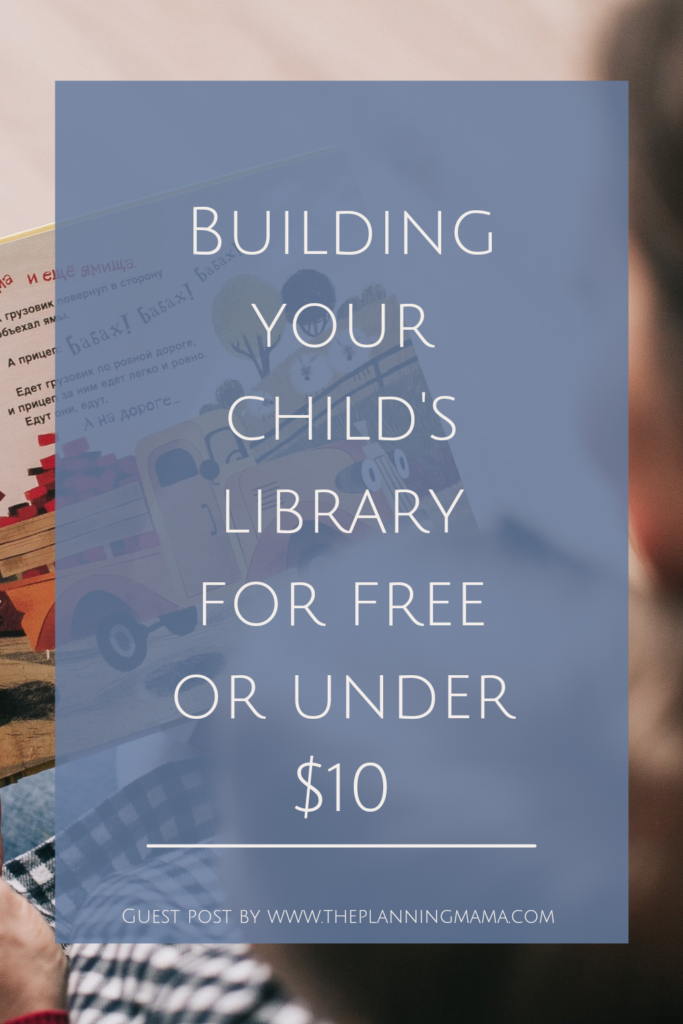 Related: 
Building A Home Library For Kids – For FREE or Under $10