Mom Daily Routine
Are you looking for ways to create a daily routine for moms?
As a busy mom, I work way better when I have a daily routine to follow.
When you're looking to improve your life, one tip you'll frequently come across is to ensure you have a set routine in place especially if you juggle multiple things.
Most moms I know do juggle multiple things per day. 
Cleaning the home

Cooking

Looking after the kids

Playing

Working from home
And more. 
With all this, a great "mom daily routine" will work wonders for you!
While daily routines are known to be crucial for kids, they're also extremely important for us adults too.
The trouble is, when you lead a busy lifestyle, it can be difficult to get into a balanced daily routine.
So, you simply live from each day to the next.
This I found only works for a little while.
Once you set a daily routine as a mom, you will find that you accomplish so much more. 
Be sure to grab this Mommy Work-Life Flow Planner today to get organized!
It is totally free and it is a lifesaver!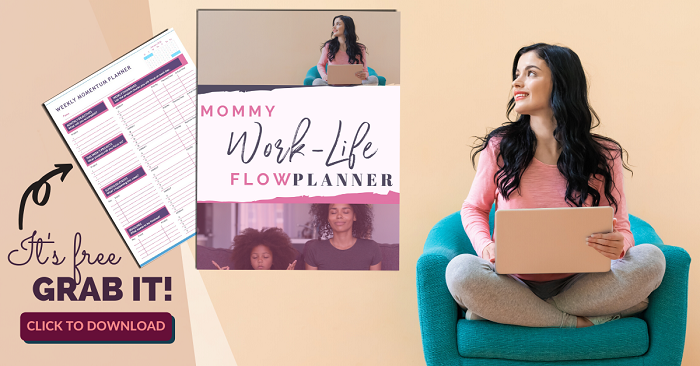 So how can you build a healthy daily routine for stay at home mom like yourself?
Before we get started on daily routines for moms, we did want you to follow us on our sister Facebook for more awesome ideas on saving or making more money. You can also follow us on our sister Instagram account as we share one for more tips. 
We also wanted to take the opportunity to let you know that we use Affiliate links on some of our blog posts. This means that we could make a commission if you click on an affiliate link and purchase something.
They are a few things you need to keep in mind before you can start to build a daily mom routine:
How much work you typically need to do

You need to list all the activities you plan on doing for yourself and with the kids

Do you get help or not

The number of kids you have

The ages of the kids

And what other things keeping you busy during the week such as work
Before we get to that, we want you to really under why a daily stay-at-home routine is very important! 
We will be focusing on the following today:
Ways to create a daily routine for a stay at home mom like you

We will be sharing a stay at home mom routine that works

How to do Stay at Home Moms Get Things Done? We have tips

How do I schedule my day as a Stay at Home Mom? We will be sharing how

And top reasons for creating a daily routine for moms
We will be sharing our top five reasons why we believe you should build a daily routine for moms and the benefits it can have.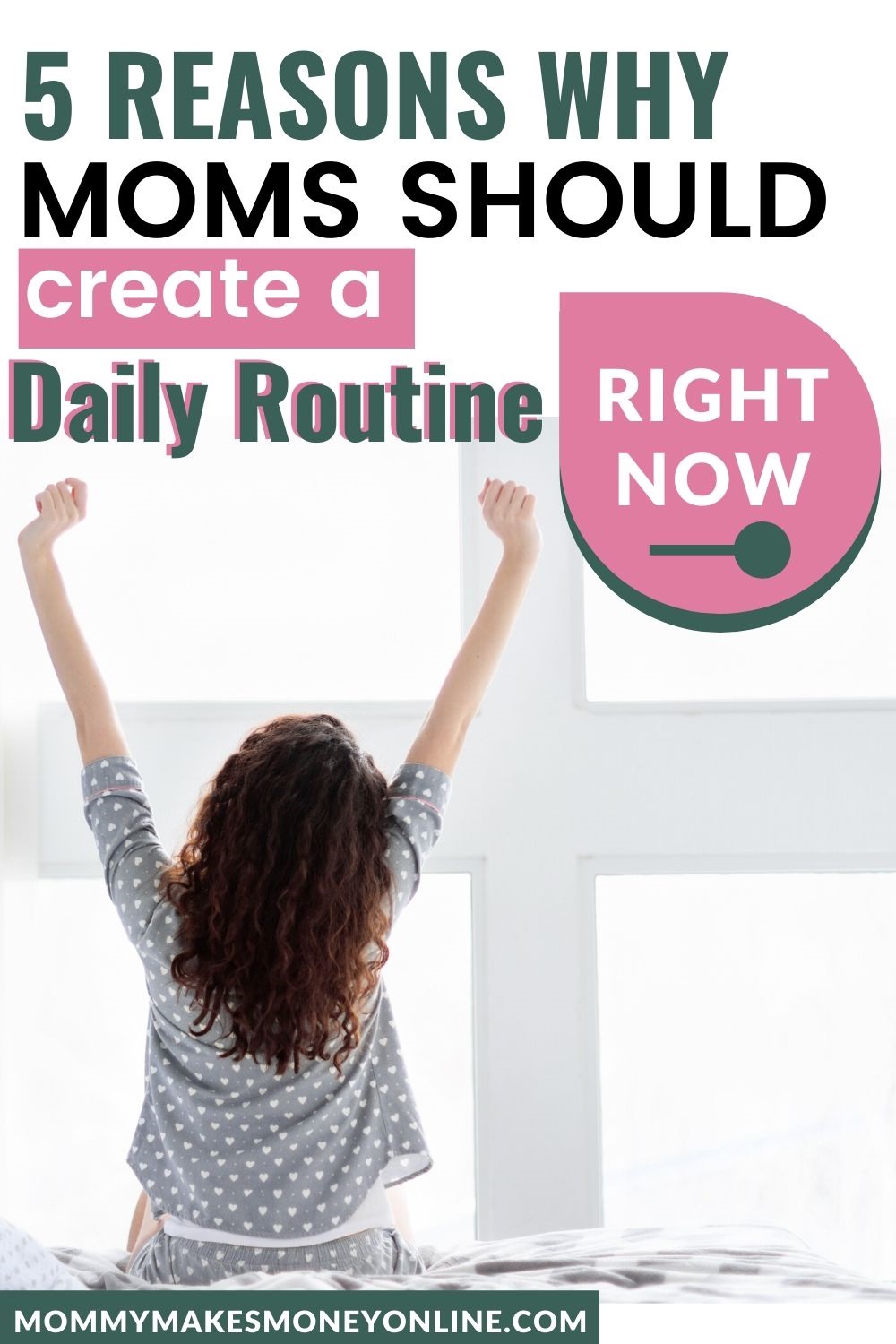 1// It makes you more productive
Did you know that having a set daily routine can make you much more productive?
Doing the same things every day builds up your skill level and you accomplish so much more.
This means it starts to take less time to complete the same tasks as it used to once they become a daily habit.
That's why I really encourage developing daily habits for both yourself and the kids. 
When you have a healthy routine, you'll also find you sleep better which in turn does wonder for your productivity.
The more refreshed you feel as a mom, the easier you'll find it to complete your daily tasks.
2// Reducing stress
Another extremely impressive benefit of having a daily routine for moms is that it can greatly reduce stress levels.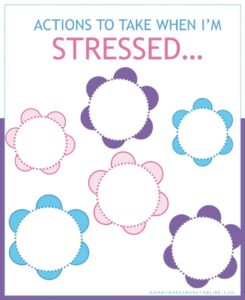 I don't know about you but my toddler is very active and is constantly requiring attention.
If I don't plan out my day perfectly, I get extremely stressed and overwhelmed. 
While they are other things in life that can cause more stress, a lot of it can be minimized by simply sticking to a routine. 
This is because when you know what it is you need to do and how you're going to do it, it generates a sense of calm.
And this Mommy Work-Life Flow Planner is perfect for creating that calm. 
The good thing about a routine is that you will become more confident. 
You will not need to worry about the things you need to do as you'll have a great plan to get them done.
A healthy routine also schedules plenty of "YOU" time, helping you to feel much more relaxed.
3// Providing a better life and work balance
Having a daily routine mom enables you to better allocate everything you need to do into your day.
You'll be able to schedule a time for work, yourself, the family and your partner without feeling too overwhelmed and panicky.
You'll be surprised just how much you can fit into one day when you have it well scheduled out.
As a busy mom, getting it all done without a plan is nearly impossible. 
Being able to spread your time in this way helps you to achieve a much better work and life balance which we want for you.
Be sure to grab this mom's daily schedule from our free library vault!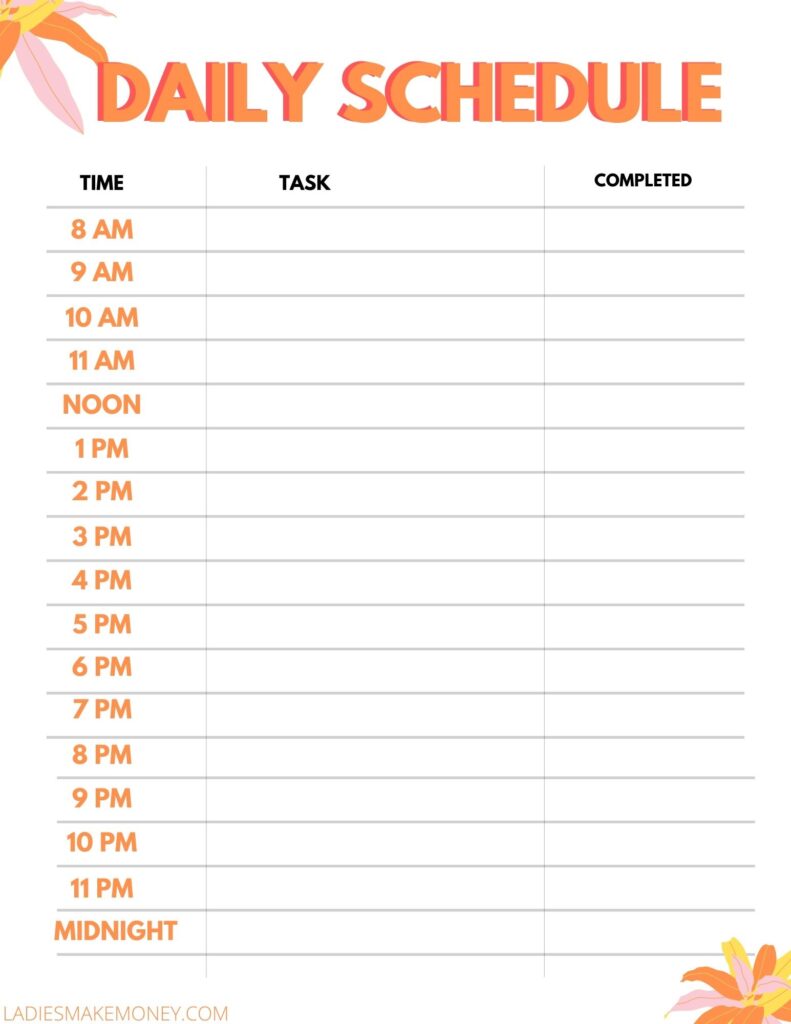 4// Creating good habits
If you struggle to break bad habits (which I use to really struggle with) and develop good ones, you'll find a daily schedule that can be really helpful.
Finding a great stay at home mom routine that works for you will help develop good habits. 
Adding good habits into your daily routine gets you used to do them more efficiently.
After a while, they'll start to become like second nature.
You will start to fill more productive as the days go by. 
Think about the daily chores you do that you don't even think about, such as brushing your teeth.
You've been doing these things each and every day with little thought because you know that it is part of your daily routine.
Therefore, when you add any new good habit into your routine, it will eventually become just as ingrained within the mind as brushing your teeth.
5// It will prevent procrastination
Finally, creating a daily routine for moms can really help to prevent procrastination.
As a mom, I know I tend to procrastinate, as well as I like to leave things to the last minute. 
But this means things don't get done or done really badly. When you aren't following a particular structure, it's easy to procrastinate.
Whether it's checking out your social media feed, or jumping from one task to the next, there are so many distractions around us that can quickly take over if you let them.
I am so guilty of this. 
So, if you're looking to stop procrastinating, having a daily mom routine is key. It will help you to better focus on the tasks that need to be done.
Don't forget to grab your Mommy Work-Life Flow Mini Planner below!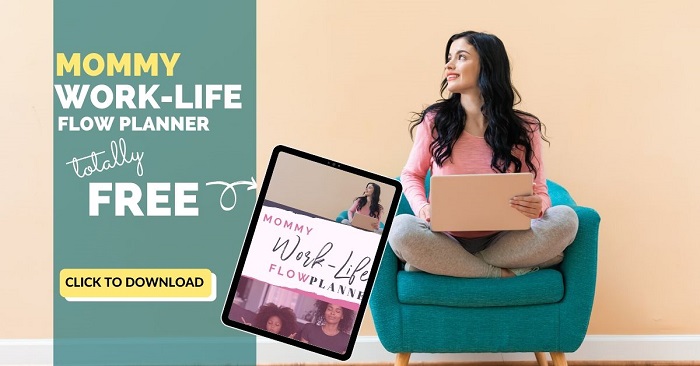 We hope our reasons for creating a daily routine for moms resonate with you and it inspires you to start your own. 
With that in mind, I found this routine on Youtube that I really loved. Brianna shares her schedule of a stay at home mom. 
Keep in mind, every house is different and therefore every routine will differ. 
5 Reasons to Create A Daily Routine for Moms Today